Renowned Berkeley sociologist Neil J. Smelser republishes his classic and clear guide, Sociological Theory — A Contemporary View.  It remains timeless because he uses examples such as Durkheim, Marx and Parsons that are still foundational today, and because the criteria for evaluation of theory are the same.  Here, they are explained in an applied way for students and researchers who want to see the process of theory from the inside.  And finally understand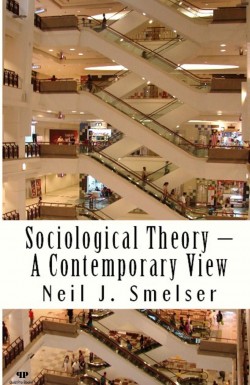 it. Features a 2011 Preface by the author and new Foreword by Arlie Hochschild as well.
PAPERBACK:
Available  in paperback at the general Amazon site, at our QP eStore page, at Barnes & Noble, at BooksAMillion, and other retailers. May also be ordered from Ingram Catalog and YBP Library Services.
EBOOKS available in all formats and at major booksellers:

Amazon Kindle version available at the Kindle store.  (Also at the UK Kindle store for UK readers.)
Available at Barnes & Noble for Nook.
At Google Play for Nexus and Play app (and generally at Google Books).
Multiple digital formats available at Smashwords.  Includes ePub, PDF, Sony, and rtf formats.
Look for it, too, on Apple iBooks directly on the iPad or iPhone, previewed online here.
And at Kobobooks, at Diesel ebooks (in ePub for many devices), and other ebook retailers.
CATALOGING:
ISBN: 9781610270526 (
paperback
)
ISBN: 9781610270519 (multiformats, digital)
ISBN: 9781610278980 (ePUB)