Stanford Law Review has ebook distribution of its volumes–the first for a law review in all its current issues.  [Issue 1 (Dec. 2011) of volume 63 was already available here.] Now, Issue 2 has published in all ebook formats. It is now in Kindle and Nook, and on iTunes. It was already available in multiple formats, including Sony, basic ePub, and PDF, from Smashwords. It features articles by Judge Posner, Cynthia Estland, and other scholars.
The Stanford Law Review is edited by students at Stanford Law School and features scholarly articles in law, economics, and social policy. Quid Pro Books is the exclusive digital publisher of the Stanford Law Review.  The current academic year (2o10-11) is Volume 63.  The Law Review publishes six issues a year.  The issue may be purchased and downloaded from leading ebook retailers like Amazon, Barnes & Noble, and iTunes Bookstore.
Formats and booksellers for Issue 2:
Amazon store for Kindle.  (And look for it in Amazon UK store for Kindle in the UK.)
Barnes & Noble for Nook.
Also available at Smashwords in various formats including ePub for Nook and Apple, active PDF, Sony, Palm, HTML online, and rtf.
Look for it at the Sony ebookstore for the Sony Reader, and at other ebook stores such as Kobobooks and Diesel.  Look for it on your iPad in the bookstore of iTunes, or with apps for Nook and Kindle.
The Stanford Law Review was organized in 1948. Each year the Law Review publishes one volume, which appears in six separate issues between December and July. Each issue contains material written by student members of the Law Review, other Stanford law students, and outside contributors, such as law professors, judges, and practicing lawyers.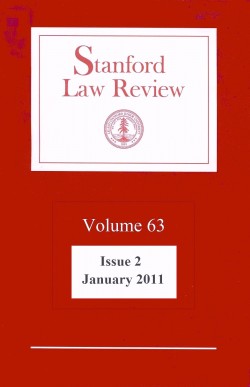 Kindle, Nook, and iTunes formats feature advanced ebook features and convenient linking of notes and tables, active URLs in notes, and active TOC for each article and the issue as a whole. Properly formatted for all ereaders.
Kindle for Issue 2: ISBN-13 9781610270489
And in ePub editions: 9781610270496
ISSUE 2 Contents:
ARTICLES
PRIVACY ON THE BOOKS AND ON THE GROUND
Kenneth A. Bamberger & Deirdre K. Mulligan
WHAT JUDGES THINK OF THE QUALITY OF LEGAL REPRESENTATION
Richard A. Posner & Albert H. Yoon
JUST THE FACTS: THE CASE FOR WORKPLACE TRANSPARENCY
Cynthia Estlund
ESSAY
INDEPENDENCE AND EXPERIMENTALISM IN THE DEPARTMENT OF JUSTICE
Norman W. Spaulding
NOTE
THE "BENEFIT" OF SPYING: DEFINING THE BOUNDARIES OF ECONOMIC ESPIONAGE UNDER THE ECONOMIC ESPIONAGE ACT OF 1996
William J. Edelman