One of the great works of sociology, digging into government, business and organizations in an intense and theoretically telling way. Foundational as to organizational theory and practice. New Foreword by Jonathan Simon. All formats have embedded page numbers from prior edition for continuity of referencing. Modern paperback edition now available at our eStore at Amazon or at the general Amazon site; and also in multiple digital formats at Amazon Kindle store, B&N Nook store, Smashwords, and Apple iBooks. New hardcover edition also available.
TVA and the Grass Roots: A Study of Politics and Organization is a famous and influential study of politics in action at all levels in the creation and expansion of the Tennessee Valley Authority…with all its land use, agricultural, political and human effects. Landmark application of political and social theory coupled with prodigious research and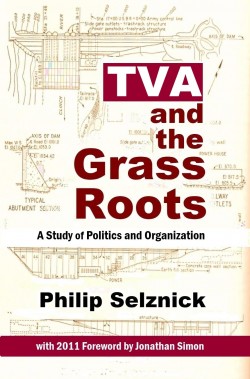 insightful analysis made this a legendary work.
Newly republished in modern print and digital formats in the Classics of the Social Sciences Series, this acclaimed book is presented to a new generation of social scientists and historians with a 2011 Foreword by Berkeley law professor Jonathan Simon. Digital formats feature active TOC, linked notes and tables, and even a fully-linked subject-matter Index. Print and digital formats include embedded page numbers from prior editions for continuity of reference, syllabus, and citation.  They are reproduced in modern format and easily assigned to classes because of the continuity feature (even ebooks have the pagination embedded) and the affordable price. This is an authorized edition.
New Paperback available via our eStore page (fulfillment by Amazon), and at Amazon, Barnes & Noble, BooksAMillion, Ingram, YBP, and other retailers.
Library-quality new HARDBACK also available, at sites above such as Amazon, Barnes & Noble, BooksAMillion, YBP, etc.
Ebooks:
Amazon for Kindle.  Also at the UK Amazon store for Kindle.
Barnes & Noble for Nook.
Smashwords, for multiple ebook formats (including ePUB and PDF).
At Google Play app.
And at Apple iBooks and iTunes bookstore (as previewed here), at Kobobooks, and at Axis360, Scribd, Oyster, etc.
ISBN: 1610270541 (Kindle) | 161027055X and 9781610270557 (paperback) | 9781610270533 (ePub)
ISBN for new 2015 hardcover printing: 978-1-61027-843-0; list price $33.99.
Paperback list price: US $27.49
Ebook list price: US $9.99
Published: March 15, 2011 (new hardcover released Feb. 9, 2015, shown below)