Remarkable in its insight and staying power, Philip Selznick's Leadership in Administration is still read in droves by business and management students, sociologists, and political scientists — and of course by interested individual readers within corporations, institutions, and governmental agencies who want to lead effectively. It forms the backbone of most accepted self-help or seminar-style management courses and guides.
Its print editions by other publishers are well regarded and often assigned, and are of very high quality. But Quid Pro is the exclusive digital publisher of this classic book. Our ebooks are active and fully linked, properly formatted for ereaders, and downloaded in formats for Kindle, Nook, and Apple. This is an authorized edition and, while priced affordably, its proceeds benefit the Philip Selznick Scholarship Fund at the Jurisprudence & Social Policy Program at Berkeley, a graduate program that he founded.
The new digital edition also features a substantive and explanatory 2011 Foreword by sociologist and law professor Robert Rosen, at the University of Miami, who studied for his Ph.D. under Dr. Selznick. Rosen now maps out for readers how Selznick's innovative theory of leadership differs from traditional conceptions of organizations and management, and explains how it has been applied in various fields of study and practice–why its adaptability and view of commitment resonates with leaders and managers today. No other edition of the book includes a new introduction, or for that matter, any other than the original prefaces (the ebooks contain all prior prefaces as well, including Selznick's 1984 update, and hyper-accurate proofreading against two original sources).
An important and unusual feature of these ebooks (and most Quid Pro republications): the original pagination from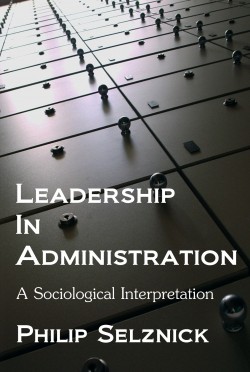 authorized print editions is embedded into the text. This allows teachers to adopt it or researchers to use it without worry about continuity of citations and syllabi. It can be adopted in conjunction with the current paperback, for example, without disruption or confusion–allowing students a diverse and convenient way to read their assigned book. We hope this continuity, and the low digital price compared to comparable non-fiction works, makes it convenient for professors and management instructors to recommend this book still, on any reading platform.
Amazon for Kindle.
Barnes & Noble for Nook.
And at Apple iTunes bookstore.
Google Play app.
And Smashwords in ePUB format.