Really, what became the EU, from a disparate mishmash of treaties, organizations, and economic groupings. And always law, before most people could imagine the extent of political integration it would engender. But Stuart A. Scheingold saw what it could become, what law could do for that process, and analyzed the state of that process from its early fragments. His monograph written for the Harvard Center for International Relations became a classic for those interested in this snapshot of data and time, and its careful analysis of early decisions in trade and governance. He explores the reasons that law and regional integration would lead the future of the Union, not a U.S.-style constitutional development of federalism. It remains a fascinating window on the origins of the EU.
In The Law of Political Integration, Dr. Scheingold studied the specific legal processes that led to the development of a more integrated Europe, in what would eventually become the European Union.  What he found challenged the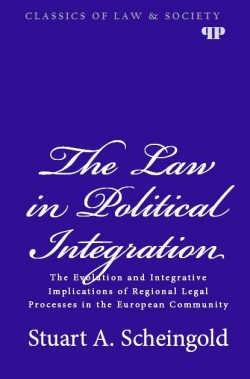 conventional meme that Europe would develop most directly along the lines of U.S. constitutional law and the federalization the U.S. began under the Marshall Court.  Rather he found the truer path to political integration through consensus and regional decision-making, and through a concept of "law" that is more flexible and openly political than constitutional scholars would concede.  The study remains an important glimpse of the processes and institutions of law and politics that lead to greater political unity.
The 2011 re-release features a new Foreword by Jörg Fedtke, a senior professor of international, EU, and comparative law at Tulane University. "The size and functions of the European Union have expanded considerably since 1971," Fedtke writes; "it has changed its name and organizational structure several times over the past four decades; and even seasoned scholars in the field struggle with the frequent internal renumbering of its foundational treaties. All of this the contemporary reader of the study must take into account. But the core questions raised by Professor Scheingold remain surprisingly topical despite the passage of time." More recent studies confirm this line of inquiry, and "show just how topical the core ideas of The Law in Political Integration remain today."
Available in quality new paperback, from our eStore page (fulfilled by Amazon) and also at Amazon.com; and at other retailers and major online booksellers. Libraries may also order from Ingram and YBP.
Also in all major digital formats:
Amazon for Kindle.
Barnes & Noble for Nook.
And direct on the iPad at Apple iTunes bookstore and iBooks; as well as Google for Play and at Google Books.
Available in multiple ebook formats, including ePUB and searchable PDF, from Smashwords. Also downloadable in ePUB at Kobo and Diesel bookstores.
CATALOGING: The Law in Political Integration: The Evolution and Integrative Implications of Regional Legal Processes in the European Community: ISBN: 9781610270359 (ePUB) / 9781610270342 (pbk)
Stuart A. Scheingold (1931-2010) taught generations of students as a Professor of Political Science at the University of Washington, and was an internationally recognized scholar on topics as diverse as street crime, the myth and reality of legal rights, punishment, political integration, activist lawyers, and political fiction. He wrote or edited 15 books and numerous articles and essays. His 1974 book The Politics of Rights: Lawyers, Public Policy, and Political Change is considered an essential part of socio-legal study, praised by Berkeley's Malcolm Feeley as "the best single book on law and politics in the United States." "He was quite simply one of the world's leading commentators on law and politics," notes Amherst College's Austin Sarat.