The Harvard Law Review is now offered in a digital edition for ereaders — featuring active Contents, linked footnotes, active URLs in citations, and proper ebook formatting. Available download sites are linked below.
The Harvard Law Review is a student-run organization whose primary purpose is to publish a  journal of legal scholarship. The Review comes out monthly from November through June and has roughly 2000 pages per volume. The organization is formally independent of the Harvard Law School.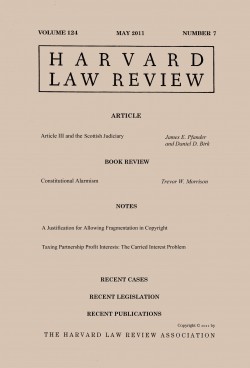 Aside from serving as an important academic forum for legal scholarship, the Review has two other goals. First, the journal is designed to be an effective research tool for practicing lawyers and students of the law. Second, it provides opportunities for Review members to develop their own editing and writing skills. Accordingly, each issue contains pieces by student editors as well as outside authors. The Review publishes articles by professors, judges, and practitioners and solicits reviews of important recent books from recognized experts. Most student writing takes the form of Notes, Recent Cases, Recent Legislation, and Book Notes. This current issue of the Review is May 2011.
Contents of Volume 124, Number 7:
Article, "Article III and the Scottish Judiciary," by James E. Pfander and Daniel D. Birk
Book Review, "Constitutional Alarmism," by Trevor W. Morrison
Note, "A Justification for Allowing Fragmentation in Copyright"
Note, "Taxing Partnership Profits Interests: The Carried Interest Problem"
Recent Case, "Corporate Law — Principal's Liability for Agent's Conduct"
Recent Case, "Administrative Law — Retroactive Rules"
Recent Case, "Federal Preemption of State Law — Implied Preemption"
Recent Case, "Labor Law — LMRA"
Recent Legislation, "Corporate Law — Securities Regulation"
Recent Publications
_____________________________
Available:
Amazon for Kindle.
Barnes & Noble for Nook.
And at the Apple iTunes bookstore.
Also found at Amazon UK Kindle store and Germany's DE Kindle store.
ISBN 9781610279864 (Kindle)
ISBN 9781610279871 (ePub)
Quid Pro Books is the exclusive eBook publisher of the Harvard Law Review.