Now available is Stanford Law Review's Issue 5 – May 2011.
The Stanford Law Review is published six times a year by students of the Stanford Law School. Each issue contains material written by student members of the Law Review, other Stanford law students, and outside contributors, such as law professors, judges, and practicing lawyers. The current volume is 63, for the academic year 2010-2011,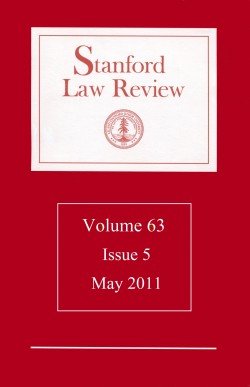 and the present compilation, in ebook form, represents Issue 5, May 2011. Contents for the issue: "The Objects of the Constitution," by Nicholas Quinn Rosenkranz"; "The Lost Origins of American Fair Employment Law: Regulatory Choice and the Making of Modern Civil Rights, 1943-1972," by David Freeman Engstrom; and three NOTES: "Measuring the Effects of Specialization with Circuit Split Resolutions," by Eric Hansford; "The Substance of Punishment Under the Bill of Attainder Clause," by Anthony Dick; and "Plenary No Longer: How the Fourteenth Amendment 'Amended' Congressional Jurisdiction-Stripping Power," by Maggie McKinley.
Look for it directly on iPad in the Apple iTunes Bookstore. Or use your favorite ereader app.
Amazon for Kindle. (And Amazon UK for Kindle in the UK.)
Barnes & Noble for Nook.
The four previous issues of Volume 63 are also available in quality ebook formats, at the Kindle Store of Amazon or at B&N as a NookBook. See them also at the Sony ebookstore and on Smashwords, and at iTunes bookstore.