A classic study, in 2011 digital and paperback formats, with a new foreword by law professor William Gallagher.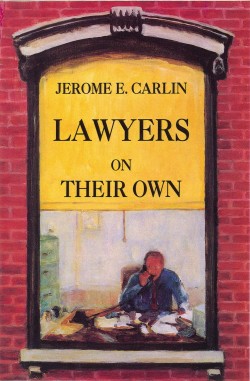 Jerome Carlin's LAWYERS ON THEIR OWN is a recognized, foundational study of lawyers in individual practice in an urban setting. It became the template for an important form of social science research into lawyers in action. In the first extensive and grounded study of individual practitioners and their candid quotes in interviews, Carlin exposed the unique practices, class divides, ethical dilemmas and ultimate resentments of a little-viewed subgroup of attorneys and their clients.
This book's findings and research methodology influenced many such studies of attorneys in action that followed it. The author's succinct and supported writing has proved to be an enduring and important study in this field of socio-legal research.
Updated with the author's extensive introduction to the second edition, as well as a new foreword by Dr. Gallagher, this modern republication is presented to a new generation of readers and researchers into the daily lives, work, business angles and unique challenges of solo and individual-client law practice.
Quality ebook formatting from Quid Pro Books includes linked notes, active Contents, legible tables and graphs, and careful proofreading. In addition, this ebook (as with the new edition in paperback) embeds the original pagination from prior editions so that the reader, even of digital formats, has continuity in research, referencing, and classroom assignments.
Available in leading ebook formats:
Amazon for Kindle.
Barnes & Noble for Nook.
At Google Play app.
At Smashwords, in multiple formats including ePub, active PDF, Word doc, online viewing, and Sony versions.
At Apple iBooks and iTunes (previewed here), as well as Kobobooks. [Also sold at Amazon UK store, and its Germany store, etc.]
Available in high-quality PAPERBACK edition:
See it at Amazon, our eStore page (fulfilled by Amazon), Barnes & Noble, BooksAMillion, and other leading retailers. Libraries may also order it from YBP Library Services and the Ingram Catalog.
…
CATALOGING:
ISBN 9781610270908 (paperback, 2011 ed.), list price $18.99
ISBN 9781610270922 (Kindle), $ 9.99
ISBN 9781610270915 (ePUB), $9.99
Cover art and design by the author:
JEROME E. CARLIN earned his Ph.D. in sociology from the University of Chicago. His research at Columbia on the lives and practices of New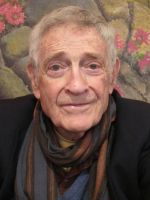 York lawyers formed the basis of his book LAWYERS' ETHICS. He became a fellow at the Center for the Study of Law and Society at the University of California, Berkeley, and helped establish and became the first head of the San Francisco Neighborhood Legal Assistance Foundation. Dr. Carlin was also an accomplished artist.
See the review of it by Carolyn Elefant at MyShingle, the leading site on solo practice. She is the author of Solo By Choice. She notes that Carlin's reissued book means that past is prologue: "As the saying goes, there's nothing new under the sun. … How do I know? Because it's all documented in one of the most important books I've read on the future of law this year, Jerome Carlin's Lawyers on Their Own; ironically, a book that focuses  on the past."