Reluctant trusts and estates lawyer meets mysterious murder of a client, apparently by another client. Frank May practices law, but he's getting by doing only the safe, bland kind–writing wills, forming partnerships, processing papers. Everything far from the seedy adventures of criminal law. But a dead body wakes you up and takes you to places you don't want to be.
A late-night call from frantic client Barney, standing near the corpse of his wannabe-actress wife, drags Frank into the world he had so carefully avoided in his practice. And he is just about the only one who believes that Barney did not murder her. Even Barney's criminal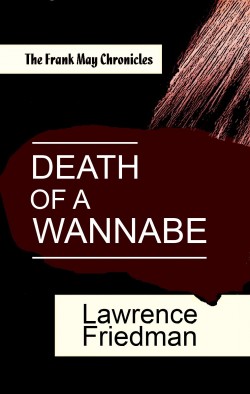 defense attorney has trouble spinning a scenario in which Barney didn't do it. Facing his reluctant task with humor and introspection, Frank sets out to do what he can–and it does not seem like much–to figure out how maybe Barney did not kill his wife.
Unraveling this mystery will not be about gory autopsies, AK47s, car chases, or thuggy ambushes in an alley–that just happens on TV shows and body-part novels by ex-pathologists. There is no million-dollar Losteochorotograph to analyze blood splatter patterns. No courtroom tricks to fool a jury. Frank May is actually going to have to use his head.
A QP Mystery, #3 in the series of The Frank May Chronicles. A new release in a traditional whodunnit genre–but with twists and ambiance that could only be the 2010s.
Available in ebook formats and in paperback:
Amazon for Kindle.
Barnes & Noble for Nook.
Smashwords, in many digital formats and PDF; and Diesel Books in ePub format.
Also look for it at iBooks or iTunes on Apple iPad and iPhones (previewed here),  and at Kobobooks. And now at Google Play.
Trade PAPERBACK available at Amazon; at our eStore (fulfilled by Amazon);  at IndieBound; at B&N online; at The Book Depository; and at other booksellers and retailers.
About the author: A senior Professor of Law at Stanford University, Lawrence M. Friedman has written 31 acclaimed books of nonfiction on law, crime, human rights, and history. He has published works of fiction as well, including this mystery novel. The book is reviewed here at Mysterious Reviews.
CATALOGING:
PAPERBACK ISBN:  1610270959 / 9781610270953
ePUB ISBN:  1610270940 / 9781610270946
KINDLE ISBN:  1610270932 / 9781610270939