Eliezer Segal, professor of religious studies at the University of Calgary and a newspaper columnist, brings his witty and pithy essays on Jewish tradition and history to books accessible to a wide audience.
The latest is On the Trails of Tradition, his 2011 book that explores — in an amusing and entertaining manner — such topics as child brides and arranged marriages, academic rivalries, vegetarianism, gift-giving and resentment, the physician's prayer, prescriptions and healing, and the unbridled truth about pork. While Dr. Segal is well known in the academic community for his scholarly research into Judaism and religious lore and symbolism, including the new Routledge book Reading Jewish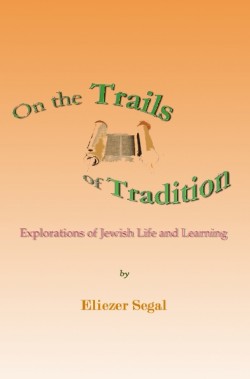 Religious Texts, he also writes to non-specialist readers of any faith interested in the fascinating traditions and historical origins of Jewish tradition found in famous scenes from the Torah, the Talmud and the Bible. You probably don't know "the rest of the story" behind so many famous people, customs and legends.
Now available in ebook formats for Kindle, Nook, Apple, and other ereaders:

Amazon for Kindle.
Barnes & Noble for Nook.
For Apple devices directly at iBooks and iTunes bookstore.
Also look for it in the Sony ebookstore, Kobobooks, and Diesel eBooks. And at the UK Amazon Kindle store here, as well as other countries' Amazon stores for Kindle.
At Smashwords in multiple digital formats, ePub, online viewing, and PDF.
Also in a 2011 paperback edition, seen at Amazon and other retailers, and suitable for gifting.
NOW ALSO AVAILABLE AS AN eBOOK:
Segal's For Signs and for Seasons, a 2011 book exploring the holy days, their seasons, and the modern cultural implications: now a quality eBook from Quid Pro, discussed here.
New in ePub format for Nook, and at the Apple store for iBooks or iTunes, are two prequel books from 2008: [1] the author's collections of essays on the seasons and holidays of Jewish tradition, Sanctified Seasons, linked here to the Barnes & Noble Nook page (look for it also on iBooks). This volume brings together a diverse collection of studies related to the cycle of Jewish holy days. Each chapter illustrates in a different way the interplay between the received teachings of the Torah and the vital impact of interpretations by diverse types of personalities, ideologies, historical events and communal dynamics. And [2] his book, A Meeting-Place for the Wise, linked here to its B&N Nook page; and see it on Apple iBooks. It is an eclectic collection of studies related to Jewish history, culture, religion and literature. The brief chapters introduce the reader to a dazzling variety of personalities, ideologies, historical events and communal dynamics. It is written from a sympathetic but non-dogmatic perspective by an expert in the academic study of the Jewish religion. Originally published as newspaper columns, the vignettes are designed to entertain as much as to educate a wide audience interested in legend, lore, Jewish history, or the Old Testament of the Bible.
About the Author:
Eliezer Segal is a Professor of Religious Studies at the University of Calgary, where he has been teaching since 1986. In addition to his scholarly writing, he has published extensively for non-specialist audiences on diverse topics related to Jewish history and tradition. Through his web site and newspaper columns, he has attracted a broad readership with his amusing style and novel perspectives. His recent books include Introducing Judaism (Routledge, 2008) and Reading Jewish Religious Texts (Routledge, 2011).
Cataloging:
On the Trails of Tradition: ISBN 9781610271035 (ePub)
Sanctified Seasons: ISBN 9781610271042 (ePub)
A Meeting-Place for the Wise: ISBN 9781610271059 (ePub)