Protect the consumer. Stop the schemes and ripoffs. Make law work for the little guy. All easier said than done.
Memoirs and case studies of fraud schemes and consumer protection from an insider who helped to found New York City's first consumer watchdog agency, Counsel for the Deceived is a funny, candid account of fraud and institutional paralysis written by a then-newby lawyer, the city's Consumer Advocate. Philip Schrag was appointed by former Miss America Bess Myerson to defend consumer rights. In six case histories, he documents the schemes of the "commercial underworld" and the inability of courts and government agencies to respond in time.
This 4oth anniversary edition of a classic book adds thoughtful new material: a foreword by Marc Galanter (University of Wisconsin) and a preface by the author. The book features the original introduction by Ralph Nader.
Schrag came into office expecting to initiate a new system, which would at last defend the powerless consumer. Instead, he discovered how both petty criminals and big corporations are able to use the law, the courts, and the general feeling favoring the status quo to delay and blunt any attacks made upon them. The book tells the fascinating and amusing story of how Schrag's young lawyers and investigators became disillusioned by observing the gap between the promise of the legal system and its actual performance — and how, in reaction, they invented unprecedented methods of consumer protection, some of which cause Schrag himself to question their ethical propriety. Enjoy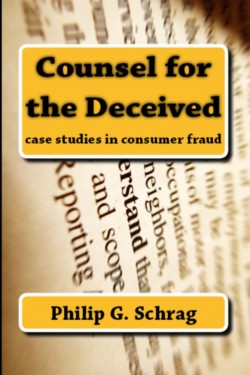 able as the stories are, their purpose is to raise serious and basic questions about our legal process and its ability to secure consumer justice, or even "law and order."
This book is a unique demonstration of a rare ability to report true crime as it occurs in everyday life, as well as a witty and perceptive analysis of the actual working of our government and our courts. And it is a fun read, a personal account of the people and plots.
Philip G. Schrag is currently a senior professor of law at  Georgetown University Law Center.
Availability:
Available in paperback, for example at our Quid Pro eStore page (fulfilled securely by Amazon); at the general Amazon site; at B&N online; and at other leading retailers. Digital editions also available:
Amazon for Kindle.

Nook format at Barnes & Noble.
Available at Apple iBooks and iTunes.
At Smashwords in multiple digital formats, plus PDF, rtf, and online viewing.
And at Kobobooks, at Diesel eBooks online, and at Google Play app.
Cataloging:
ISBN-13 9781610279604 (Kindle)
ISBN-13 9781610279611 (ePub)
ISBN-13 9781610279628 (paperback)