One of the world's leading law journals is now available in quality ebook formats for ereader devices and apps. This issue of The Yale Law Journal (the first issue of Volume 121, academic year 2011-2012) features new articles and essays on jurisprudence, tort law, and other areas of interest. Contributors include such noted scholars as Jules Coleman, Ariel Porat, and Mark Geistfeld. The issue also features student contributions on counter-terrorism and on felon disenfranchisement.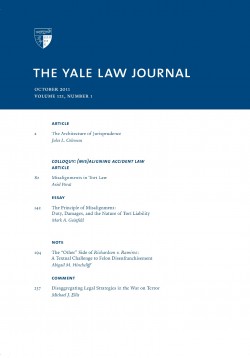 Ebook formatting includes linked notes and an active Table of Contents (including linked Tables of Contents for individual articles and essays), as well as linked cross-references and properly presented images and tables. Quid Pro Books is the exclusive ebook publisher of The Yale Law Journal. Subsequent issues are also available.
Available from leading ebook distributors:
Amazon for Kindle.
Barnes & Noble for Nook.
On Apple iBooks and iTunes, direct on iPad and iPhone.
At the UK Amazon Kindle store, as well as its stores for Germany and France.
Also available at Google for Play, and more generally at Google Books.
And in universal ePUB format at Smashwords.
…
The editors of The Yale Law Journal are a group of Yale Law School students, who also contribute Notes and Comments to the Journal's content. The principal articles are written by leading legal scholars.
Cataloging:
The Yale Law Journal: Volume 121, Number 1 – October 2011
ISBN 1610279638 (ePub)
ISBN-13 9781610279635 (ePub)
ISBN 1610279646 (Kindle)
ISBN-13 9781610279642 (Kindle)