Issue number 1 of the academic year 2011-12 is now available, HLR's November 2011 issue analyzing the 2010 Term of the U.S. Supreme Court. This special issue is read widely for its summaries and analyses of the law in cases involving the U.S. Constitution, federal statutes and jurisdiction, patent law, and many other subjects recently adjudicated by the Justices.
The Harvard Law Review is offered in a digital edition for ereaders, featuring active Table of Contents, linked footnotes and cross-references, legible tables, and proper ebook formatting. Quid Pro Books is the exclusive ebook publisher of the Review. The Harvard Law Review is a student-run organization whose primary purpose is to publish a journal of legal scholarship. The Review comes out monthly from November through June and has roughly 2000 pages per volume. The organization is formally independent of Harvard Law School. Student editors make all editorial and organizational decisions.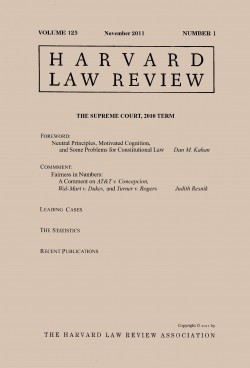 Aside from serving as an important academic forum for legal scholarship, the Review has two other goals. First, the journal is designed to be an effective research tool for practicing lawyers and students of the law. Second, it provides opportunities for Review members to develop their own editing and writing skills. Accordingly, each issue contains pieces by student editors as well as outside authors. The Review generally publishes articles by professors, judges, and practitioners and solicits reviews of important recent books from recognized experts. Most student writing takes the form of Notes, Recent Cases, Recent Legislation, and Book Notes. This current issue of the Review is November 2011, the first issue of Volume 125.
This issue is the special annual review of the Supreme Court's previous term. Each year, the issue is introduced by noteworthy and extensive articles from recognized scholars. In this issue, the Foreword is authored by Dan Kahan, and examines the idea of "neutral" judicial review and the Supreme Court's methodology of constitutional decisionmaking and establishment of precedent, as well as the problem of motivated cognition, particularly in light of notable cases from the 2010 Term. An article by Judith Resnik offers an extensive Comment on three recent notable cases: Wal-Mart v. Dukes, AT&T v. Concepcion, and Turner v. Rogers.
In addition, the first issue of each new volume provides an extensive summary of the important cases of the previous Supreme Court docket, on a wide range of legal, political and constitutional subjects. This issue surveys, in a series of case notes, the 2010 Term. Finally, the issue includes statistical summaries and tables of the 2010 Term, and recent book notes.
Available in leading digital formats:
Amazon for Kindle.
B&N for Nook.
On Google Books and Google Play, as with all our ebook issues of the Review.
And look for it directly on Apple devices and apps in the iBooks and iTunes stores. Previewed here.
Also found in ePUB format at Smashwords. Look for it, too, at Sony for the Sony Reader, Kobobooks, and Diesel e-books.
…
Cataloging:
ISBN-10: 1610279654 and ISBN-13: 9781610279659 (ePub)