One of the world's leading law journals is available in quality ebook formats for ereader devices and apps. This issue of The Yale Law Journal (the second issue of Volume 121, academic year 2011-2012) features articles on new ideas in enforcing international law, and on the role of incentives and disincentives under the idea of limited government. Contributors include the noted scholars Oona Hathaway, Scott J. Shapiro, Benjamin Ewing, and Douglas A. Kysar. The issue also features student contributions on sentencing guidelines and the historical argument for Presidential war powers.
Ebook formatting includes linked notes and an active Table of Contents (including linked Tables of Contents for individual articles and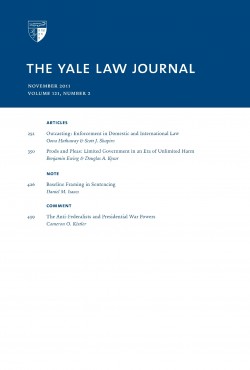 comments), as well as fully-linked cross-references and properly presented tables.
The editors of The Yale Law Journal are a group of Yale Law School students, who also contribute scholarship to the Journal's content. The principal articles are written by leading legal scholars. The contents of this issue are:
• "Outcasting: Enforcement in Domestic and International Law," by Oona Hathaway & Scott J. Shapiro
• "Prods and Pleas: Limited Government in an Era of Unlimited Harm," by Benjamin Ewing & Douglas A. Kysar
• Note, "Baseline Framing in Sentencing"
• Comment, "The Anti-Federalists and Presidential War Powers"
Available in ebook editions:
Amazon for Kindle.
B&N for Nook.
And look for it directly on iPad/iPhone at Apple iBooks and iTunes.
Also found at Amazon UK Kindle store, and Amazon stores for Germany, France, and many countries.
And in ePUB format at Smashwords.
Finally, at Google for Play, and more generally at Google Books.
…
Cataloging for Issue Number 2 (Nov. 2011):
ISBN: 1610279662 (ePub)
ISBN-13: 9781610279666 (ePub)