The Harvard Law Review's December 2011 Issue (Volume 125, Number 2) is available in quality eBook editions from Quid Pro Books.
Articles in this issue are from such recognized scholars as Jamal Greene (writing on notorious or anti-canonical Supreme Court cases like Lochner and Plessy), Orin Kerr (on Fourth Amendment theory), and Michael Klarman (reviewing in depth a new book on the Constitutional Convention).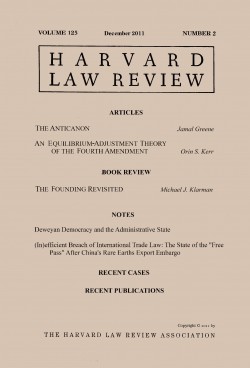 Student contributions feature Notes on the John Dewey model of democracy and administrative agencies, and on breaching international trade law. Case Notes discuss recent decisions on such topics as civil procedure, tort law, patent law, constitutional law (on transgender prisoners and on firing ranges), stem cell research funding, and corporate immunity.
The Harvard Law Review is offered in a digital edition for eReaders, featuring active Table of Contents, linked footnotes and cross-references, legible tables, and proper ebook formatting. Quid Pro Books is the exclusive digital publisher of the Harvard Law Review. Available at leading eBook sites:
Amazon for Kindle.
Barnes & Noble for Nook.
And look for it at Apple iBooks and iTunes bookstores. (Readers using Apple iPad, iPhone, and iPod Touch may access the eBook directly on iBooks or iTunes, or in the Kindle or Nook stores via their dedicated apps.)
Kindle readers in the UK can find it at Amazon UK for Kindle. It is also seen at country-specific Amazon stores worldwide, including the German, Italian, French and Spanish Kindle stores, and everywhere else at the general Amazon.com site. It is available for Apple ereaders throughout Europe and in Australia at iBooks. Plus the Kindle app makes eBooks like this one accessible to everyone, nearly everywhere, even on Apple devices, Mac, PC, BlackBerry, and Android pads and smartphones.
Cataloging for Dec. 2011 Issue:

ISBN: 1610279670 (ePub)  |  ISBN-13: 9781610279673 (ePub)