One of the world's leading law journals is available in quality ebook formats for ereader devices and apps. Ebook editions include active Contents for the issue and for individual articles, linked footnotes, linked cross-references in notes and text, active URLs in notes, and proper digital presentation from the original edition.
This issue of The Yale Law Journal (the 4th issue of Volume 121, academic year 2011-2012) features articles and essays by several notable scholars. Principal contributors include Louis Kaplow (on burdens of proof and their justifications), Richard Schragger (on democracy and debt), and Anna Gelpern (on quasi-sovereign bankruptcy).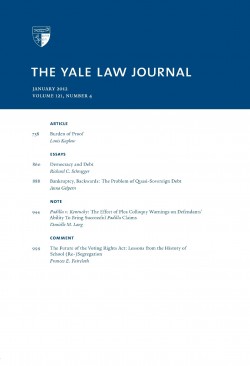 This new issue also features student contributions on guilty plea colloquys for immigrants and others, and on voting rights' historical lessons from the school re-segregation cases.
The editors of The Yale Law Journal are a group of Yale Law School students, who also contribute Notes and Comments to the Journal's content. The principal articles are written by leading legal scholars. Quid Pro Books is the exclusive ebook publisher of The Yale Law Journal.
Available in leading digital formats:
Amazon for Kindle, Kindle Fire, and Kindle apps.
Barnes & Noble for Nook and Nook apps.
Apple iBooks store, for iPad, iPhone, iTunes, etc. (Just search "Yale Law Journal" from iBooks or iTunes.)
Google for Play and Google Books.
In ePUB format at Smashwords.
…
Cataloging for this issue:
ISBN: 1610279522 (ePub)  |  ISBN-13: 9781610279529 (ePub)
ASIN: B0072QWRWE (Kindle)