Featured articles in this issue are from such recognized scholars as Amanda Tyler, on the core meaning of the Suspension Clause, and Kenneth Mack, reviewing Tomiko Brown-Nagin's new book on the grass roots origins of the civil rights movement. Also, several scholars contribute to a tribute honoring Frank Michelman. Student contributions explore the law relating to international delegation, the First Amendment and student speech, criminal sentencing, public jury selection, sovereign immunity for alien tort claims, and corporate governance. Finally, the issue includes several Book Notes.
The Harvard Law Review is a student-run organization whose primary purpose is to publish a journal of legal scholarship. The Review comes out monthly from November through June and has roughly 2000 pages per volume. The organization is formally independent of the Harvard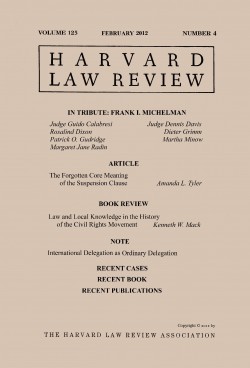 Law School. Student editors make all editorial and organizational decisions.
Aside from serving as an important academic forum for legal scholarship, the Review has two other goals. First, the journal is designed to be an effective research tool for practicing lawyers and students of the law. Second, it provides opportunities for Review members to develop their own editing and writing skills. Accordingly, each issue contains pieces by student editors as well as outside authors. The Review generally publishes articles by professors, judges, and practitioners and solicits reviews of important recent books from recognized experts. Most student writing takes the form of Notes, Recent Cases, Recent Legislation, and Book Notes.
This current issue is February 2012, the fourth issue of academic year 2011-2012 (Volume 125). The Harvard Law Review is offered in an eBook edition for ereaders and apps, featuring active Contents, linked footnotes and cross-references, legible tables, and proper eBook formatting.
AVAILABLE:
Amazon for Kindle.
Barnes & Noble for Nook.
And on Apple iTunes and iBooks bookstores.
Cataloging:
ISBN 978-1-61027-959-8 (eBook format)