The Changing Academic Market: General Trends and a Berkeley Case Study is the inside story and scholarly analysis of a leading sociology department's search, during the mid-1970s, to fill several faculty positions. This was attempted in the middle of the fundamental changes to the university market that began in the 1960s and was especially acute at the University of California at Berkeley. That sea change is exposed with candid self-awareness and examined in its practical effects on faculty hiring procedure, treatment of candidates, professors' relations with each other and their political stances, and recommendations for other academics in a similar recruitment process throughout the United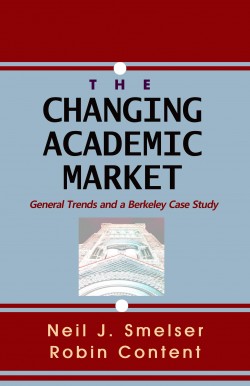 States.
Quality eBook formatting from Quid Pro Books includes linked notes, active contents, and legible tables from the original hardcover edition, published in 1980 by the University of California Press. Our new paperback edition is available in late March 2012.
Neil J. Smelser is a senior university professor at Berkeley and the former chair of its sociology department. Working with Robin Content, he conducted a massive faculty hiring search while conditions of hiring and recruitment were seismically moving. They tell the story of that search with introspection and locate it within the literature on the higher education job market.
A reviewer at the time of its initial publication (Harvard's Nathan Glazer) called this book "a unique study … placed within the context of a wise and subtle analysis of the changes that have taken place in the past decade in the academic market," analyzed for the first time with "care and attention to detail and sound research procedures." Another expert in the field (CUNY's Dorothy Helly) commented that this is "a rich text on a crucial aspect of higher education … the recruitment process among dramatically increased numbers of Ph.D.'s who include a growing proportion of women and minorities"; she added that the approach used "constituted a radical departure from sole reliance on recommendations from a network of professional colleagues," the usual way. Now part of the new academic library of Quid Pro Books, this book is a classic research study and hallways account of faculty hiring–of continued value to researchers, teaching applicants, and present faculty hiring committees.
Available in new paperback and eBook editions:
New PAPERBACK available from our QP eStore (fulfilled securely by Amazon); or at Amazon.com, Barnes & Noble, and other online sites. Also may be ordered from YBP Library Services. New digital editions include multiple formats:

Amazon for Kindle.
Barnes & Noble for Nook.
At Apple iTunes and iBooks bookstores, on iPad and iPhone.
And at Sony ebookstore, Diesel eBooks, and Kobo Books. Look for its own Apple app by searching the App Store. Also found at Smashwords in many downloadable formats including PDF, ePub, rtf and Sony.
Cataloging:
ISBN 978-1-61027-125-7 (paperback edition, 2012)
ISBN 978-1-61027-121-9 (eBook edition, 2012)