James Jones' acclaimed A Hidden Madness tells the story of an accomplished individual who has reached the pinnacle of his profession despite suffering for over thirty years from the severe mental illness bipolar disorder. He has done so mostly in silence because of fear of stigma. Extreme childhood bullying helped cause his condition, which has seen him hospitalized five times in psychiatric facilities for periods as long as six months. It is an eye-opening voyage through the little-understood realm of severe mental illness featuring its powerful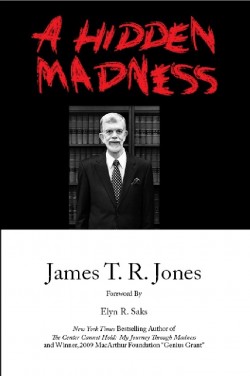 medications, periodic hospitalizations, often rocky relationships, and light as well as dark moments.
The story offers both real hope for those afflicted by serious mental illness and deep insight into their many symptoms, numerous drugs, periodic crises, and potential triumphs. It shows that by being compliant with a medical regimen of therapy and medication, getting help and support from others with the same illness, benefiting from a loving family, discovering coping mechanisms to get through every day, having caring and understanding friends, and being too stubborn to let a disease ruin his life one can enjoy a successful and fulfilling professional and personal life.
James T. R. Jones earned an undergraduate degree with highest distinction from the University of Virginia and a law degree with honors from Duke University. He worked for an elite law firm on Wall Street and clerked for a judge on the United States Court of Appeals for the Fifth Circuit. Since 1986 he has been a member of the faculty of the Louis D. Brandeis School of Law at the University of Louisville. He wrote a series of articles on using tort law to force law enforcement officials and medical professionals to report domestic violence to the appropriate authorities and has been recognized as a national expert on this important social issue. In 2008 he ended twenty-two years of secrecy about his disease at the Brandeis School of Law and twenty-eight years overall when he wrote the article "Walking the Tightrope of Bipolar Disorder: The Secret Life of a Law Professor" that was published in the leading peer-reviewed journal in legal education. The article generated an enormous positive response, as did pieces that appeared in public media in the Louisville area. Since 2008 he has spoken extensively about "Severe Mental Illness, Stigma, and the Value of Treatment" and is widely recognized for his award-winning mental health advocacy efforts. He now serves on the Boards of four local and national groups that focus on mental health and the way society treats those with serious mental illness.
A Hidden Madness includes a foreword by Elyn R. Saks, author of the acclaimed New York Times bestseller The Center Cannot Hold: My Journey Through Madness and winner of a 2009 MacArthur Foundation "Genius Grant." Saks, who is a professor at the Gould School of Law at the University of Southern California and suffers from schizophrenia, is the only other law professor in the United States publicly to acknowledge having a severe mental illness.
Now available in quality eBook formats as part of the Journeys & Memoirs Series:
Amazon for Kindle.
Barnes & Noble for Nook.
And on Apple iBooks and iTunes bookstores (previewed online).
At Google Play app and at Google Books.
And in ePUB format at Smashwords; look for it, too, at Diesel and Kobobooks.
Also available from the author in 2011 paperback edition (336 pp.), for example at Amazon.
~
Cataloging for the new eBook edition:
ISBN 1610271246 (eBook)
ISBN 978-1-61027-124-0 (eBook)