This issue of The Yale Law Journal (the 5th issue of Volume 121, academic year 2011-2012) features articles and essays by several notable scholars. Principal contributors include Ruth Mason and Michael Knoll (an article on tax discrimination), and Michael Graetz and Alvin Warren, Jr. (a featured essay also analyzing tax discrimination, and in response). Student contributions discuss such issues as the 26th Amendment's enforcement power, the Attestation Clause in United States history, and software licensing agreements.
Ebook editions include active Contents for the issue and for individual articles, linked footnotes, linked cross-references in notes and text,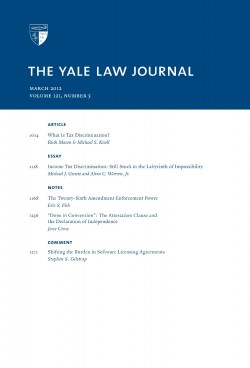 active URLs in notes, and proper digital presentation from the original print edition.
The editors of The Yale Law Journal are a group of Yale Law School students, who also contribute Notes and Comments to the Journal's content. The principal articles are written by internationally recognized legal scholars. Previous issues of Volume 121 are also available.
Available in eBook formats:
Amazon for Kindle.
Barnes & Noble for Nook.
And at Apple iBooks and iTunes bookstore, as well as Google for Play and Google Books.
In ePUB format at Smashwords.
…
Cataloging:
ISBN 978-1-61027-940-6 (eBook edition)