Featured articles in this March 2012 issue are from such recognized scholars as Jody Freeman and Jim Rossi, on the coordination of administrative agencies when they share regulatory space, and James Whitman, reviewing Bernard Harcourt's new book on the illusion of free markets as to prisons. Student contributions explore the law relating to antitrust and business deception; the failed Google Books settlement; mergers and acquisitions; materiality in securities law; administrative law; patentable subject matter; and paid sick leave. Finally, the issue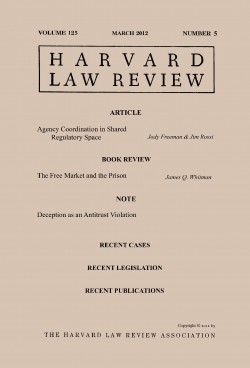 includes two Book Notes.
The Harvard Law Review is a student-run organization whose primary purpose is to publish a journal of legal scholarship. The Review comes out monthly from November through June and has roughly 2000 pages per volume. The organization is formally independent of the Harvard Law School. Student editors make all editorial and organizational decisions.
This current issue of the Review is March 2012, the fifth issue of academic year 2011-2012 (Volume 125).
The editors of The Harvard Law Review are a group of Harvard Law School students, who also contribute Notes and Recent Cases to the Journal's content. The principal articles are written by internationally recognized legal scholars. Previous issues of Volumes 124 and 125  are also available.
Available in eBook formats:
Amazon for Kindle.
Barnes & Noble for Nook.
At Apple iBooks and iTunes bookstore.
At Google Play app on Nexus and similar devices.
And at Smashwords in ePUB format. Look for it, too, at Sony for the Sony Reader, Kobobooks, and Diesel e-books.
…
Cataloging:
ISBN 978-1-61027-941-3 (eBook edition)