This issue of The Yale Law Journal (the 6th issue of Volume 121, academic year 2011-2012, Apr. 2012) features articles and essays by several notable scholars. Principal contributors include Daryl Levinson (on votes and rights), Michelle Wilde Anderson (on dissolving cities), and Patricia Bella (on WikiLeaks and national security). The issue also features student contributions on elected prosecutors throughout legal history and on execution of the mentally retarded as an issue under Section 1983 civil rights law.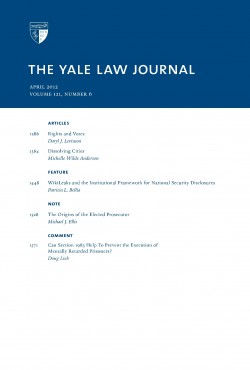 The editors of The Yale Law Journal are a group of Yale Law School students, who also contribute Notes and Comments to the Journal's content. The lead articles and features are written by internationally recognized legal scholars. Ebook editions, exclusively from Quid Pro Books, include active Contents for the issue and for individual articles, linked footnotes, linked cross-references in notes and text, active URLs in notes, and proper digital presentation from the original edition.
AVAILABLE:
Amazon for Kindle.
Barnes & Noble for Nook.
At Google for Play.
In universal ePUB format at Smashwords.
And at iTunes and iBooks bookstores by Apple.
…
The editors of The Yale Law Journal have priced each issue at 99 cents (the lowest allowed in Kindle's KDP program) to facilitate maximum access worldwide.
Previous issues of Volume 121 are also available from such venues, and also discounted, as are several later issues and volumes.
CATALOGING:
ASIN B007RXX03M (Kindle)
ISBN 978-1-61027-943-7 (ebk)