Featured articles and essays in the April 2012 issue are from such recognized scholars as Cary Franklin (in an article on inventing the "traditional concept" of sex discrimination), Richard Pildes (on law and the President, in an essay reviewing a book by Eric Posner and Adrian Vermeule), and Robert Weisberg (on the tragedy of crime and criminal law, reviewing a book by the late William Stuntz). Student contributions explore the law relating to everlasting software; incarcerating immigration detainees; the First and Fourteenth Amendments; Sixth Amendment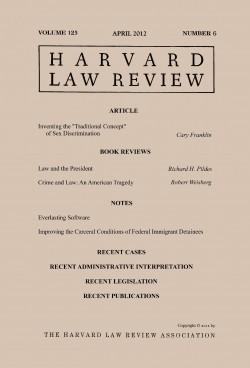 implications of napping defense counsel; copyright under the first sale doctrine; war powers in Libya; and eyewitness identification evidence.
The Harvard Law Review is a student-run organization whose primary purpose is to publish a journal of legal scholarship. The Review comes out monthly from November through June and has roughly 2000 pages per volume. The organization is formally independent of the Harvard Law School. Student editors make all editorial and organizational decisions.  This issue of the Review is April 2012, the sixth issue of academic year 2011-2012 (Volume 125).
Available in eBook formats:
Amazon for Kindle.
Barnes & Noble for Nook.
At Apple iBooks and iTunes bookstores.
At Google Play app on Nexus and similar devices, and on Google Books.
And at Smashwords in ePUB format. Look for it, too, at Sony for the Sony Reader, Kobobooks, and Diesel e-books.
Previous issues of the Review are also available at such booksellers, and are all linked at our webpage for the journal here.
…
Cataloging for Harvard Law Review Volume 125, Number 6 – April 2012:
ISBN 978-1-61027-944-4 (eBook editions)