A leading law review now offers a quality eBook edition. This first issue of 2012 of the University of Chicago Law Review features articles and essays from internationally recognized legal and education scholars, including an extensive Symposium on understanding education and law in the United States. Topics include economic structures in education, teaching patriotism, charter and Catholic schools, Amish one-room schools, minority students, empirical work on religious schools, federalism, equal opportunity, and higher-education accreditation.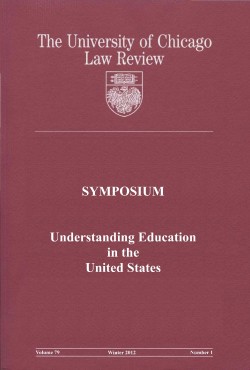 In addition, the issue includes articles by Clayton Gillette on municipal bankruptcy and federalism, and Steven Horowitz on copyright law's asymmetry, as well as a student comment on wartime waivers and a book review.
The issue serves, in effect, as a new book on cutting-edge issues of educational law and policy in the United States by renowned researchers in the field. It is presented in modern eBook formatting and features active Tables of Contents; linked footnotes and URLs; linked cross-references; and legible graphs.
The University of Chicago Law Review first appeared in 1933, thirty-one years after the Law School offered its first classes. Since then the Law Review has continued to serve as a forum for the expression of ideas of leading professors, judges, and practitioners, as well as students, and as a training ground for University of Chicago Law School students, who serve as its editors and contribute Notes, Comments, and other research. Principal articles and essays are authored by internationally recognized legal scholars. Quid Pro Books is the exclusive eBook publisher of the University of Chicago Law Review. See Press Release of May 7, 2012.

Available in eBook formats and leading apps:
Amazon for Kindle.
Barnes & Noble for Nook.
At Apple iBooks and iTunes bookstores (search 'Chicago Law Review' in the store for all issues).
At Google Books and Google Play, as with all our issues of UCLR.
Also found in ePUB format at Smashwords. Look for it, too, at Sony for the Sony Reader, Kobobooks, and Diesel e-books.
…
Cataloging for Volume 79, Number 1 – Winter 2012:
ISBN 978-1-61027-945-1 (eBook)
ASIN B0080LRI7E (Kindle)