Featured articles and essays in this issue are from recognized scholars in law and legal theory, including a Symposium on private law. The issue also includes the article "Regulation for the Sake of Appearance," by Adam Samaha. The Symposium contents are:
THE NEW PRIVATE LAW
• "Introduction: Pragmatism and Private Law,"
by John C.P. Goldberg
• "The Obligatory Structure of Copyright Law: Unbundling the Wrong of Copying,"
by Shyamkrishna Balganesh
• "Property as the Law of Things,"
by Henry E. Smith
• "Duties, Liabilities, and Damages,"
by Stephen A. Smith
• "Palsgraf, Punitive Damages, and Preemption,"
by Benjamin C. Zipursky
The issue includes two student Notes: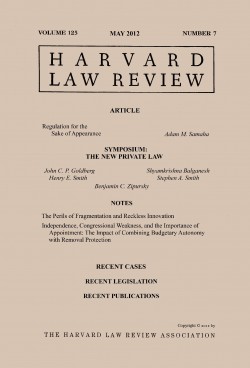 • "The Perils of Fragmentation and Reckless Innovation"
• "Independence, Congressional Weakness, and the Importance of Appointment: The Impact of Combining Budgetary Autonomy with Removal Protection"
In addition, student contributions on Recent Cases and Legislation explore the law relating to tasers as excessive force, free speech rights of teachers, employment discrimination disparate impact, separation of powers in dealing with Guantánamo transfers, and excessive sentencing using an uncharged murder. Finally, there are six Book Notes of Recent Publications.
The Harvard Law Review is a student-run organization whose primary purpose is to publish a journal of legal scholarship. The Review comes out monthly from November through June and has roughly 2000 pages per volume. The organization is formally independent of the Harvard Law School. Student editors make all editorial and organizational decisions.
This current issue of the Review is May 2012, the seventh issue of academic year 2011-2012 (Volume 125). Previous issues of Volumes 124 and 125 are available as ebooks as well.
Available in all leading ebook formats:
Amazon for Kindle.
Barnes & Noble for Nook.
At Apple iBooks and iTunes bookstore.
At Google Play and more generally at Google Books.
And in ePUB format at Smashwords. Look for it, too, at Sony, Diesel, and Kobobooks.
…
Cataloging:
ASIN B0083J47N6 (Kindle)
ISBN 978-1-61027-948-2 (ebook)
320 pp.