The Nature and Sources of the Law (Second Edition, 1921) is Gray's legal and jurisprudential classic, finally available in a high-quality eBook edition and new paperback. It is the 11th contribution in the Legal Legends Series and, unlike most such classics typically reproduced by crude scanning, offers full assurances of careful proofreading, proper formatting, and modern presentation. The eBooks also offer active Contents and linked footnotes.
John Chipman Gray (1839-1915) was a noted lawyer and legal scholar of the progressive era and a founder of the Boston law firm Ropes & Gray. His important book analyzed the uses of precedent and custom, the meaning of law and legal rights, the differences between common law and civil law reasoning, deference to and interpretation of statutes and their occasional obsolescence, the role of morality and popular will, and the philosophical failings of Austin, Blackstone, and German thinkers of the day. It is a remarkable set piece in legal theory and history.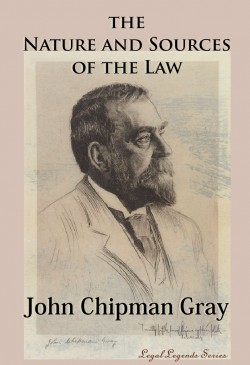 Presented in a high-quality eBook edition in the Legal Legends Series of Quid Pro Books, this book is carefully rendered from the original, with an attention to detail and accuracy typically missing in modern reprints (in either print or digital, in fact). Its Table of Contents and extensive footnotes are fully linked and active. Pagination from the 1921 edition is even embedded into the text, for continuity of citations and consistency across digital and accepted printed platforms. Includes introductory and explanatory Notes of the Series Editor by Steven Alan Childress, J.D., Ph.D., a senior law professor at Tulane University. 
Legal Legends editions of classic works of law and political philosophy are unlike any digital versions available today, at any price. Also in the Series are explained and introduced editions of Cardozo's THE NATURE OF THE JUDICIAL PROCESS (with new material by Harvard's Andrew Kaufman), Llewellyn's THE BRAMBLE BUSH (with new introduction by Wisconsin's Stewart Macaulay), Holmes' THE [ANNOTATED] COMMON LAW (adding 200 simple explanatory notes), Holmes' THE PATH OF THE LAW and Warren and Brandeis' THE RIGHT TO PRIVACY (with additions by Steven Alan Childress), and three works by Woodrow Wilson. The Series offers classic work, affordably, and using the highest-quality formatting and presentation.
Available in paperback edition:
The new paperback edition of Gray's book is seen at Quid Pro's eStore page, and at Amazon.com, Barnes & Noble, BooksAMillion, and other booksellers. Libraries (and others) may also order from the Ingram catalog 0r YBP Library Services.
NEW HARDBACK ALSO AVAILABLE (published in 2015), affordably priced, at retailers such as BooksAMillion, Barnes & Noble, Amazon.com, Ingram, and YBP.
Also in leading eBook formats:
Amazon for Kindle.
Barnes & Noble for Nook.
And at Apple iBooks and iTunes bookstore.
. . .   
Cataloging:
ISBN 978-1-61027-841-6 (hardback 2015, 222 pp., list price $26.99)
ISBN 978-1-61027-937-6 (paperback 2012, 222 pp., list $22.99)
ASIN B0089YQPIU (Kindle ebook edition)
ISBN 978-1-61027-933-8 (ePUB ebook edition)