One of the world's leading law journals is available in quality ebook formats for ereader devices and apps. Ebook editions include active Contents for the issue and for individual articles, linked footnotes, active URLs in notes, Bluebook style, and proper digital presentation from the original edition.
This issue of The Yale Law Journal (the 8th issue of Volume 121, academic year 2011-2012) features articles and essays by several notable scholars. Contributions includes articles by Ian Ayers on opt-out provisions and an economic theory of rule-altering, and by James Greine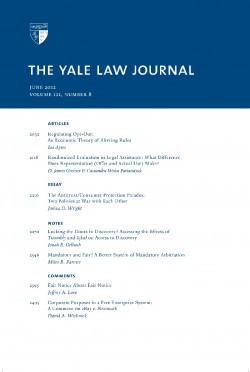 r and Cassandra Pattanayak on randomized evaluation in legal assistance, as well as an essay by Joshua Wright on the dichotomy between antitrust policy and consumer protection. Student work explores discovery law after recent changes in pretrial dismissal standards, a proposal for a fair mandatory arbitration scheme, fair notice provisions, and corporate purposes in light of the Craigslist-eBay litigation.
This is the final issue for Volume 121. Seven previous issues in the volume are also available as ebooks.
The editors of The Yale Law Journal are a group of Yale Law School students, who also contribute Notes and Comments to the Journal's content. The principal articles are written by internationally recognized legal scholars.
Available in leading ebook formats:
Amazon for Kindle.
Barnes & Noble for Nook.
Apple iBooks and iTunes bookstore (see online here).
Google, for Play app and devices like Nexus.
At Smashwords in universal ePUB format; and look for it at Kobobooks.
. . .
Cataloging:
ASIN B008E97S9U (Kindle)
ISBN 978-1-61027-935-2 (ePUB)