The June 2012 issue features the Harvard Law Review's annual, extensive, and famous DEVELOPMENTS IN THE LAW section; this year's subject examines Presidential Authority. Issue 8 also includes an article by Nicholas Stephanopoulos, "Spatial Diversity," which analyzes redistricting and other concepts of population dispersion, and a Book Review by Michael Dorf, "The Undead Constitution," which explores originalism and constitutional interpretation in light of recent books by David Strauss and Jack Balkin. The issue begins with a series of In Memoriam contributions celebrating Bernard Wolfman.
In its Developments survey on executive authority, the student-authors analyze the subjects of: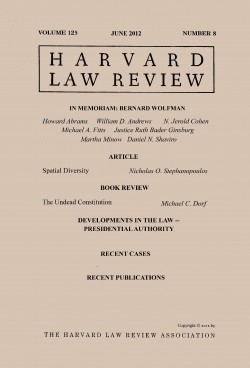 * The President's Role in the Legislative Process
* Presidential Power and the Office of Legal Counsel
* Presidential Involvement in Defending Congressional Statutes
* Executive Appointments
In addition, student contributions on Recent Cases explore such topics as patentable subject matter, sentencing guidelines, economic spying, the death penalty and mental retardation, Guantánamo hearings and intelligence reports, and organ donor compensation for bone marrow. The issue also includes Recent Publications and the Index for volume 125.
The Harvard Law Review is offered in a digital edition for ereaders, featuring active Table of Contents, linked footnotes and cross-references, legible tables, and proper ebook formatting. The Review is a student-run organization whose primary purpose is to publish a journal of legal scholarship. The Review comes out monthly from November through June and has roughly 2000 pages per volume. The organization is formally independent of the Harvard Law School. Student editors make all editorial and organizational decisions.  The Review generally publishes articles by professors, judges, and practitioners and solicits reviews of important recent books from recognized experts. Most student writing takes the form of Notes, Recent Cases, and Book Notes.
This current issue is June 2012, the 8th issue of academic year 2011-2012 (Volume 125). Previous issues of Volume 124 and 125 are also available as ebooks.
Available in leading eBook formats:
Amazon for Kindle.
Barnes & Noble for Nook.
At Apple iBooks and iTunes bookstores.
At Google Play and more generally at Google Books.
And in ePUB format at Smashwords. Look for it, too, at Sony, Diesel, and Kobobooks.
. . .
Cataloging for this issue 8:
ISBN 978-1-61027-932-1 (eBook)
ASIN B008EWYV60 (Kindle)