A leading law review in an eBook edition. This final issue of 2011 features articles and essays from internationally recognized legal scholars and governmental leaders, including Cass Sunstein (on empirically informed regulation), Jonathan Bressler (on jury nullification and Reconstruction), Daniel Schwarcz (on standardized insurance policies), and Bertral Ross II (writing against constitutional mainstreaming in statutory interpretation).
In addition, the issue includes a review essay on the book The Master Switch, as well as student Comments on such subjects as same-sex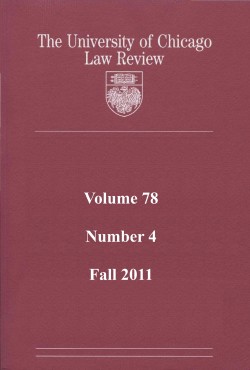 divorce, religious practices by prisoners, falsely claiming Medal of Honor status, and enhancement in federal sentencing.
The issue is presented in modern eBook formatting and features active Tables of Contents; linked footnotes and URLs; and legible graphs and tables.
The University of Chicago Law Review first appeared in 1933, thirty-one years after the Law School offered its first classes. Since then the Law Review has continued to serve as a forum for the expression of ideas of leading professors, judges, and practitioners, as well as students, and as a training ground for University of Chicago Law School students, who serve as its editors and contribute Notes, Comments, and other research. Principal articles and essays are authored by internationally recognized legal scholars.
Available in leading ebook formats:
Amazon for Kindle.
Barnes & Noble for Nook.
At Smashwords in ePUB format; look for it in ePUB at Kobo.
Also found in Apple format for iPad and iPhone on iTunes and iBooks; and at Google for Play and related apps, and Google Books.
. . .
Cataloging for Volume 78, Issue 4 – Fall 2011:
ISBN 978-1-61027-936-9 (eBook)
ISBN-10: 1610279360 (eBook)