The classic and unabridged work on the theory of sociology from one of its greatest voices in the U.S. over the 2oth century is finally available in a modern, affordable eBook, and new paperback. We are proud to note that this is Quid Pro's 100th book published to Amazon Kindle since April 2010, in addition to all our print editions in our expanding catalog, and eBook editions for Apple, Nook, Sony, and other apps and devices.
Part of the Classics of the Social Sciences Series from Quid Pro: quality digital formatting features fully-linked footnotes, active table of contents, proper formatting, all graphs and tables, and the original Index. The 60th Anniversary eBook edition includes embedded page numbers from the standard print editions, for continuity of citations and syllabi across digital and print platforms: a very useful feature for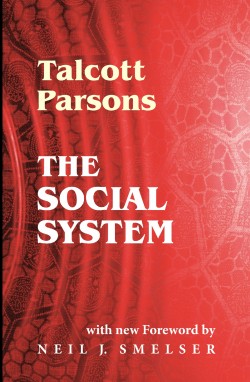 research, classwork, and group assignments. Most of all, it's proofread with care and attention to detail, to promote accuracy, faithful to the original work. These features are unlike any digital version available before–ebook or online–at any price. Without linked notes and indented paragraphs, other versions are virtually unnavigable, and not particularly proofread. The author and this important classic of sociology deserve better.
This is the classic study by Harvard's Talcott Parsons on social systems and the "theory of action," as theorized and applied in a variety of settings, including the medical profession, psychological relationships, and religious organization. This foundational work also includes a substantive, analytical 2012 Foreword by Neil J. Smelser of the University of California at Berkeley. The new paperback features modern presentation, as well as the careful proofreading of the digital editions and Dr. Smelser's helpful introduction. No currently available print edition of this important book–at any price (some are $202)–offers that.
Also in the Classics of the Social Science Series are modern republications, including quality eBook editions, of Neil Smelser's THEORY OF COLLECTIVE BEHAVIOR and SOCIOLOGICAL THEORY, and Philip Selznick's TVA AND THE GRASS ROOTS and LEADERSHIP IN ADMINISTRATION. They are introduced and explained by leading contemporary scholars in the field. The Series also includes works by Emile Durkheim, Samuel Krislov, and Stuart Scheingold.
Parsons' foundational study is now available in PAPERBACK at Amazon.com, our QP eStore (fulfilled securely by Amazon), Barnes & Noble online, and other booksellers. Also may be ordered from YBP Library Services and from the Ingram catalog.
And in leading eBook formats:
Amazon for Kindle.
Barnes & Noble for Nook.
And at Apple bookstore @ iTunes and iBooks. (Just search it directly from the iPad or iPhone in iBooks.)
. . .
Cataloging:
ISBN 978-1-61027-138-7 (eBook)
ASIN B008QBWV0W (Kindle)
ISBN 978-1-61027-139-4 (paperback, 2012)
About the Author:
Talcott Parsons was a pioneer and leader in sociology during the 20th century, and introduced generations of social scientists to complex social theory as a prolific author and the Chair of Harvard's Department of Social Relations.