Émile Durkheim's foundational lecture series on civic roles and duties and the concept of the State, and on ethics in professions and trade groups, is at last presented in a quality digital edition (and new paperback). The ebook features usable formatting, linked notes and Contents, embedded pagination from standard print editions, the original Index, and hyperaccurate rendition of the original text. Previous ebooks—at any price, to buy or rent—failed to produce it accurately or format it properly. His lectures were in fact entitled "Leçons de Sociologie Physique…" not "Lemons de Sociologie Physique…" and his name is not "Durkhcim." Most of all, their failure to indent each new paragraph made the work very hard to read, assign, and reference. The author and this important work of sociology deserve better.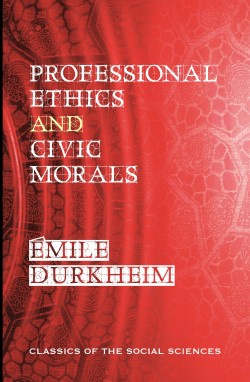 Properly presented and on the merits, Durkheim astutely analyzes the origins of professions, their norms, and guild controls—professional ethics, as it were—and offers extensive analysis of the social basis for the State, property, contract law, and prohibition of murder. He draws insightful and surprising conclusions on several fronts, including refuting accepted notions of the basis for government and of the value of property as a product of labor. He reveals the religious origins of property rights and protection by law. He also demonstrates that times of social upheaval and war produce secondary social effects such as the rise in homicide. The book is of continuing value to sociologists, political theorists, historians, and other interested readers. The English translation is presented in a straightforward and clear style.
In this modern edition from Quid Pro Books, the original Introduction by Georges Davy is included, as well the 2012 Notes of the Series Editor by Steven Alan Childress, Ph.D., J.D., a senior law professor at Tulane University.
PAPERBACK available at Amazon.com, our QP eStore (fulfilled securely by Amazon), Barnes & Noble, BooksAMillion, and other booksellers. And may be ordered from library distributors including YBP Library Services.
New library-quality HARDCOVER edition, available (and affordable) at Amazon, Barnes & Noble, BooksAMillion, Ingram, YBP, etc.
Digital editions available in leading formats:
Amazon, for Kindle.
Barnes & Noble, for Nook.
And at Apple iBooks and iTunes bookstores (previewed here).
. . .
Cataloging:
ASIN B008WUQEKU (Kindle ebook) | $12.99
ISBN 978-1-61027-143-1 (ePUB ebook) | $12.99
ISBN 978-1-61027-142-4 (paperback) | list price $27.99
ISBN 978-1-61027-827-0 (hardcover, 2015) | list price $34.99
242 pp.