Frank May hates trouble, as a lawyer and as a guy. But it likes him just fine. For someone who practices wills and trusts law because it is far from the scene of murder and mayhem, he has a knack for being caught up in it anyway.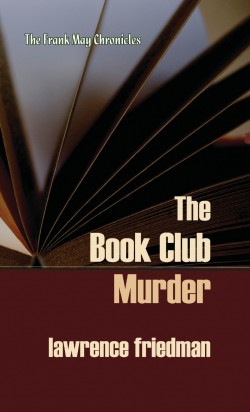 Which is why he thought he was fortune's friend the night his wife stayed home from her book club meeting—a lucky migraine—when someone got smothered. He wouldn't be caught up in it this time, nor his wife, and someone else could figure out all the tangles and suspicions of the book club women.
Somehow it did not work out that way, and all their issues landed at his feet anyway. He may not solve the mystery of the book club murder, but in the process he was definitely going to have his eyes opened about his wife's book club.
A Frank May Mystery, from QP Books. Others in the Series may be found here. Read the author's blog post on this book, his series, and the inspiration for mysteries, at Mysterious Reviews.
. . .
PAPERBACK available from Amazon.com, Barnes & Noble, our QP eStore (fulfilled securely by Amazon), and other booksellers; and from the Ingram Catalog and YBP Library Services.
ALSO AVAILABLE in quality eBook formats:
Amazon for Kindle.
Barnes & Noble for Nook.
Smashwords, in multiple digital formats, ePub, and PDF.
And at Apple iBooks and iTunes bookstore (search on iPad and iPhone directly in the app; it is previewed online in iTunes).
Look for it, too, at Diesel eBooks, and also Kobobooks for the Kobo Reader. Now available at Google Play.
. . .
CATALOGING:
ISBN 978-1-61027-146-2 (paperback)
ISBN 978-1-61027-147-9 (eBook)
ASIN B0092Q86MC (Kindle)
168 pp.