The classic study of historical and then-emerging ways in which the U.S. Constitution has been interpreted and applied, especially as regards judicial power to review congressional acts, sharing of power between states and the federal government, Lochnerism, the change in the Supreme Court during the Roosevelt years, taxing power, and interstate commerce. Thomas Reed Powell presented this material first as lectures at Columbia Law School, and their enduring nature and historical insider-ness makes them of current interest to law professors and students, historians, and political scientists who see constitutional structure, and not only rights and liberties, as crucial to understanding U.S.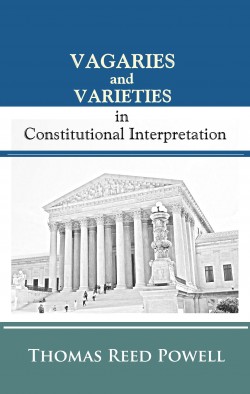 government, the federal-state balance, and the infusion of government into economic life.
Thomas Reed Powell was valued not only in law but also taught political science and earned his PhD in the subject; he edited political journals, seeing pragmatic approaches to constitutional questions that went beyond legal doctrine. His writing style is pithy, witty, and straightforward. Summing up a career of constitutional scholarship in six insightful lectures, Powell turned the resulting book into his legacy.
Presented in our Legal Legends Series, the eBook features quality formatting, hyperaccurate proofreading from the original, linked notes and active Table of Contents, and the original Index and helpful Foreword by Paul Freund. This new digital edition features 2012 Notes of the Series Editor by Steven Alan Childress, J.D., Ph.D., a senior law professor at Tulane. Also in the Legal Legends Series are modern and explained republications, including quality eBook editions, of classic works by Holmes, Cardozo, Llewellyn, Woodrow Wilson, John Chipman Gray, and Roscoe Pound.
Powell's constitutional study is A MODERN PAPERBACK:
Available now at such online retail sites as Amazon.com, the QP eStore (fulfilled securely by Amazon), and Barnes & Noble. It may also be ordered from YBP Library Services and the Ingram catalog. And contact us about bulk orders and class adoptions.
Available in leading eBook formats:
Amazon for Kindle.
Barnes & Noble for Nook.
And at Apple bookstore @ iTunes and iBooks.
. . .
Cataloging:
ISBN 978-1-61027-925-3 (paperback, 2012)
ISBN 978-1-61027-924-6 (eBook)
ASIN B009ES5B76 (Kindle)
170 pp.