THE LAW-SCIENCE CHASM is a new socio-legal study that takes seriously the varying approaches to science that physicians and scientists use, as compared to legal actors such as judges and lawyers. Offering a way to mediate and translate their different perspectives and assumptions,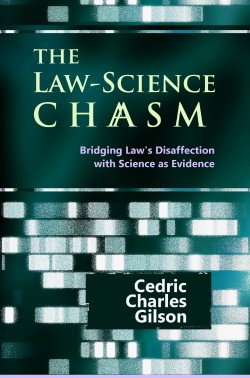 Gilson uses sociological and philosophical methodologies to explain each discipline to the other.
Part of the new Dissertation Series from Quid Pro Books. The book also includes an introduction by Professor John Paterson, of the faculty of law at the University of Aberdeen. As Paterson writes in the Foreword:
"Gilson's book takes seriously the idea of the autopoietic closure of society's communicative subsystems and works out the consequences in particular for science and law. This analysis both lends support to the credibility of the approach adopted and sheds light on the problems and the direction in which potential solutions might lie…. The book consequently makes an important contribution not only to the literature dealing with the relationship between science and law but also to the literature dealing with the application of autopoietic systems theory to tangible concerns. This book is therefore of clear significance to those continuing to wrestle with the challenges thrown up by science for law and policy even when the spotlight of public attention is directed elsewhere."
PAPERBACK available at Amazon.com, our QP eStore, YBP Library Services, Barnes & Noble online, the Ingram Catalog, and other booksellers. In the UK, see it at the Amazon UK store.
Available also in eBook formats:
Amazon for Kindle. [And in the UK also at Amazon UK store, and other country-specific Amazon stores.]
Barnes & Noble for Nook.
At Apple iTunes and iBooks, direct on apps for iPad, iPhone, and related apps worldwide (previewed online).
At Smashwords as an ePUB download; look for it, too, at Diesel e-books and at Kobobooks.
And found at Google Books and Google Play, in ePUB format.
…
CATALOGING:
ISBN 9781610271448 (paperback)
ISBN 9781610271455 (eBook)
ASIN B009G9ZKQU (Kindle)
238 pp.
…
About the author
Cedric C. Gilson is Visiting Fellow in Law in the School of Law at the University of Westminster, London, UK. He continues to study the relationship of science and law in pursuit of truth. He is also interested in using social systems theory to study societal dilemmas such as assisted dying. He has lectured in Regulation of Risk Environments at Master's level as another reflection of his interest in the science-law fault line.
See this book's review at the blog of the American Association of Law Libraries, as well as the London School of Economics Book Review.