WHO WANTED WAR? is a historic monograph on, and argument about, the origins of World War I. Two famed University of Paris professors document their "brief" on the diplomatic and historic causes of the Great War, and especially its spread throughout Europe (and eventually to the United States). Published early on in the conflict—reading almost as current events—the tract serves as a fascinating rebuttal to the usual assumptions about the causes of the jarring leap from the Balkans to a pan-European war; it undermines the simplistic but accepted litany of interlaced alliances and the murder of the Austrian heir to the throne, Archduke Franz Ferdinand. The book reads like a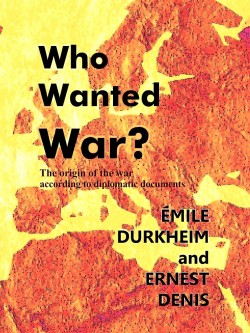 compelling, tragic, and unfolding drama.
Quid Pro's modern version of this important book features close proofreading of the original text, contemporary formatting and typeface, and many corrections of distracting misprints found in the original. It adds a 2012 Introduction by Steven Alan Childress, Ph.D., J.D., a senior law professor at Tulane University. Unlike other republications previously available, the Quid Pro Books edition presents the original properly and as the authors intended, and explains its import in the new Introduction. New digital edition features the above plus linked footnotes, active Contents, and proper ebook formatting, unlike any such edition—online or ebook, at any price—previously available.
NEW PAPERBACK available from Amazon.com, our QP eStore (fulfilled by Amazon), Barnes & Noble, YBP Library Services, Ingram Catalog, and other booksellers. Also in quality, fully-linked ebook formats:
Amazon for Kindle.
Barnes & Noble for Nook.
And at Apple iBooks and iTunes bookstore.
. . .
Cataloging:
ISBN/EAN 1610271483 / 9781610271486  (paperback, 90 pp.)
ASIN B009NGX55Y (Kindle)
ISBN 978-1-61027-149-3 (eBook)
May be ordered in bulk for classroom uses, library adoptions, etc., from the publisher at substantial discount. Even retail this book is priced affordably to encourage class adoptions and recommendations, and the ebook formats are priced very low. See our Contact Page.