FROM FRONTIER TO PLANTATION IN TENNESSEE is the classic book by late UVa professor of history Thomas Perkins Abernethy about the formative years of Tennessee and its  early political leadership. Now republished in a quality paperback edition without underlines and distracting stray marks, it has been Digitally Remastered to restore missing parts of words, cleaner text, and more consistently legible footnotes.
Abernethy studied a time when Tennessee was the original Wild West and a laboratory for U.S. expansion and repopulation–the first new state born out of a territory. Answering the idealized histories that had uncritically praised the democracticizing effects of the Frontier in American history, Abernethy discusses such leaders as William Blount, Andrew Jackson, Andrew Johnson, and William Carroll (the latter two seen as more the proponents of democracy than was Jackson, who by this time was a wealthy landowner, not the common man). Legends like Daniel Boone and Davy Crockett, and scores of land squatters and magnates, figure colorfully into the account. It was the political elites and land grabbers who ruled Tennessee from the time of the Revolution to the Civil War, not the pioneers, trappers, and farmers. Even Representative David Crockett's efforts to secure land for the common man led to a breach with Andrew Jackson, and he was largely run out of town to the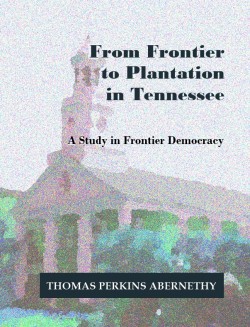 Alamo, Texas. Jackson is less a hero than a human, especially when compared to his image in adoring biographies that existed at the time of this book and since: "The Arch-democrat-to-be was quite willing to make others pay for his mistakes."
The book's current relevance extends even to regions other than Tennessee and the early South, as the author captures a pattern of settlement and the momentum from territory to statehood that has informed much research into, and curiosity about, other frontiers in transition.
Part of the History and Heroes Series by Quid Pro.
PAPERBACK available from Amazon.com, our QP eStore page (fulfilled securely by Amazon), Barnes & Noble, the Ingram Catalog, YBP Library Services, and other booksellers.
…
Cataloging:
ISBN: 978-1-61027-155-4 (paperback, 408 pp.)