A leading law review offers a quality ebook edition. This third issue of 2012 features articles from internationally recognized legal scholars, and extensive research in Comments authored by University of Chicago Law School students. Contents for the issue include: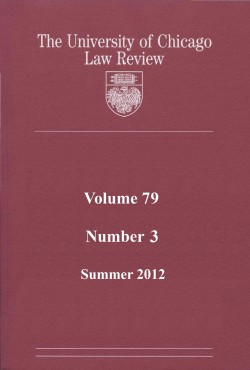 ARTICLES:
"Orwell's Armchair," by Derek E. Bambauer
"Jury Nullification in Modified Comparative Negligence Regimes," by Eli K. Best & John J. Donohue III
"Allocating Pollution," by Arden Rowell
COMMENTS:
"A State-Centered Approach to Tax Discrimination under 11501(b)(4) of the 4-R Act"
"A Felony, I Presume? 21 USC 841(b)'s Mitigating Provision and the Categorical Approach in Immigration Proceedings"
"Home Is Where the Court Is: Determining Residence for Child Custody Matters under the UCCJEA"
"Revisiting Revlon: Should Judicial Scrutiny of Mergers Depend on the Method of Payment?"
In the ebook edition, Tables of Contents are active, including those for individual articles; footnotes are fully linked and properly numbered; graphs and figures are reproduced legibly; URLs in footnotes are active; and proper ebook formatting is used.
The University of Chicago Law Review first appeared in 1933, thirty-one years after the Law School offered its first classes. Since then the Law Review has continued to serve as a forum for the expression of ideas of leading professors, judges, and practitioners, as well as students, and as a training ground for University of Chicago Law School student-editors.
AVAILABLE:
Also at Apple iBooks and iTunes bookstores; and at Google Play and Google Books.
…
CATALOGING:
ISBN 9781610279277 (ePUB)