MUNICIPAL ADMINISTRATION IN THE ROMAN EMPIRE is Frank Abbott and Allan Johnson's classic and much-cited study of the origins of professional administration and bureaucracy in the Roman Empire. The text features source materials and extensive notes, including municipal documents in Greek and Latin from Italy and the provinces, as well as documents from Egypt. Generations of scholars of ancient history and public administration have used these source materials and the authors' sophisticated analysis to good advantage.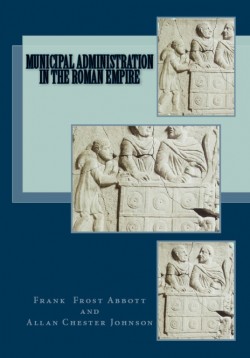 This new print republication from Quid Pro Books is digitally corrected to eliminate underlines, stray marks, and printer artifacts typically found in such reprints. It is ideal for research, libraries, and classroom adoption.
Part of the Classics of the Social Sciences Series.
PAPERBACK available from Amazon.com, our QP eStore (powered by Amazon), Barnes & Noble online, YBP Library Services, Ingram Catalog, and other booksellers.
Please contact us about bulk sales, classroom adoptions, and college bookstore placements.
About the authors:
Frank Frost Abbott (1860-1924) and Allan Chester Johnson (1881-1955) were renowned professors of classical studies at Princeton University.
CATALOGING:
ISBN 978-1-61027-917-8 (paperback, 2012)
612 pp.
Publication Date: Nov. 8, 2012