Finally a lawyer and politician who openly campaigned on the fact that he was a thief.
The New York Times, April 5, 1914: "HOW I ROBBED TRAINS: BY A CANDIDATE FOR GOVERNOR; Al Jennings, Reformed Outlaw and Ex-Convict, Who Expects to be Chief Executive of Oklahoma, Tells the Story of His Exploits as Head of 'The Jennings Gang.' … AL JENNINGS has written his autobiography. Or, to be exact, he has dictated it to a stenographer, and Will Irwin has edited it. So Mr. Irwin says,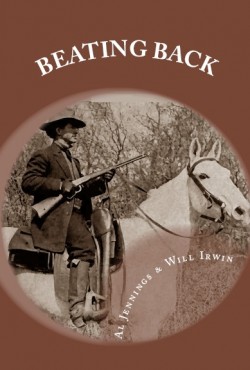 by way of preface and explanation; and he adds (Irwin does) that the stenographer alternately chuckled and sobbed as she made her hen-tracks."
Alphonso J. Jennings (1863–1961) was a prosecuting attorney in Oklahoma Territory who—after his family's law practice was decimated by a shootout with a rival attorney—became an outlaw and train robber. After capture and serving time in Ohio and Leavenworth (sharing prison time, in fact, with O. Henry), Jennings returned to law practice, turned to politics, became a celebrity with the publication of these memoirs, and even became a silent film actor. With Will Irwin, Jennings produced a magazine series on his wild exploits, hard time in prison, and rehabilitation—spinning an unlikely arc of a life, to be sure—which later became the very entertaining and successful book BEATING BACK.
The new Quid Pro edition of this classic and fun read is a Digitally Remastered Book™—a correct reproduction of the classic 1914 memoirs, unlike any new version of this book available today. This process removes underlines, stray marks, smudges and printer errors typically found in such reprints, and completes missing letters and words. It provides a cleaner, complete, and more professional presentation—a pleasant reading experience. Part of the Journeys and Memoirs Series.
PAPERBACK available from Amazon.com, our QP eStore (powered by Amazon), Barnes & Noble online, YBP Library Services, Ingram Catalog, and other booksellers.
. . .
ISBN 978-1-61027-916-1 (paperback)
Page count: 378 pp.
Publication Date: Nov. 8, 2012
Yes, he even wore a hat in prison. This is his 1902 mugshot from Leavenworth.