The Harvard Law Review is offered in a digital edition for ereaders, featuring active Contents, linked footnotes, legible tables, and proper ebook formatting. This current issue of the Review is November 2012, the first issue of academic year 2012-2013 (Volume 126).
The November issue is the special annual review of the Supreme Court's previous term. Each year, the issue is introduced by noteworthy and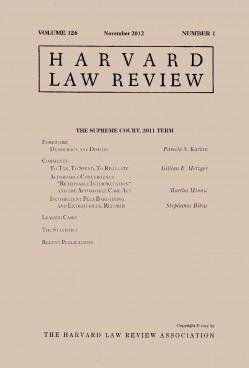 extensive articles from recognized scholars. In this issue, the Foreword is authored by Pamela Karlan, on "democracy and disdain." Extensive Comments by Gillian Metzger and Martha Minow explore the Supreme Court's decision on the Affordable Health Care Act and Chief Justice Roberts's reasoning, while Stephanos Bibas discusses the gray market of plea bargaining and the potential involvement of neutral judges in the process.
In addition, the first issue of each new volume provides an extensive summary of the important cases of the previous Supreme Court docket, covering a wide range of legal, political and constitutional subjects. Student Case Notes explore the Supreme Court's 2011 Term, involving such subjects as free speech and religion, federal statutes and review, copyright and patent law, Eighth Amendment, criminal procedure, evidence and Confrontation Clause, habeas corpus, and federal preemption of state law. The issue also includes Recent Publications.
AVAILABLE in eBook formats at leading sites:
Amazon for Kindle.
Barnes & Noble for Nook.
At Google Play and more generally at Google Books here, as are all our Harvard Law Review issues now.
And at Apple iBooks and iTunes bookstore (as previewed online here).
Also found in ePUB format at Smashwords. Look for it, too, at Sony for the Sony Reader, Kobobooks, and Diesel e-books.
…
CATALOGING:
ISBN 978-1-61027-928-4 (eBook)
ASIN B00A45ZF24 (Kindle)
417 pp.
$3.99