The classic and compelling narrative of the kidnapping, slavery, and freedom of a free man of color wrested to rural Louisiana. Lured to the nation's capital by the prospect of work, Solomon Northup, a free man born in New York, is kidnapped and sold into slavery. He spends the next twelve years in bondage, primarily on a plantation in Louisiana, along the Red River. Solomon was a witness to the inhumanity of the institution of slavery, the abuses suffered at the hands of cruel masters, and working conditions and the daily lives of his fellow slaves.
Throughout his enslavement, Solomon never reveals his true identity as a free man, kept secret for fear of brutal physical consequences and the possibility of being traded to a plantation further away from society. Eventually enlisting the aid of a white man from Canada employed on the plantation, Solomon strives to realize his dream of returning to Saratoga, New York, to his wife and now-grown children.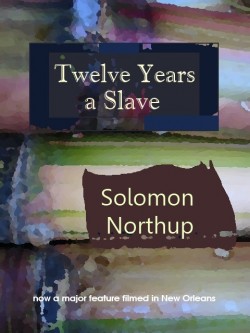 First published in 1853, Twelve Years a Slave is a stark description of that "peculiar institution" that drove the southern economy and bitterly divided Americans. Solomon Northup's narrative is perhaps one of the most important–and compelling–first-hand accounts of slavery that exists. The new edition features additional interesting and rare images relating to Solomon Northup, such as the actual "manifest of slaves" from the ship that brought him in chains to New Orleans. The paperback uses clearer, more legible formatting and font than do typical reproductions of this book, and the eBooks include the additional images and active Contents, linked notes, and proper digital presentation–also rare among the usual eBook editions of this work.
Available in new paperback edition, from: Amazon.com, Barnes & Noble online, our QP eStore page, YBP Library Services, and the Ingram catalog.
And available in library-quality (but affordable) hardcover edition (shown below right), also from those leading booksellers such as Amazon and Barnes & Noble, and in the Ingram catalog or at YBP for libraries. Ask us how to supply a school district or wholesale purchase of the hardback edition at deep discount. We want this book to be available to students from middle school through college; it will be a thought-provoking assignment at many levels, and will pique students' attentions as the movie is released. See Contact Us for such inquiries.
Available in leading eBook formats:
Amazon for Kindle.
Barnes & Noble for Nook.
And at Apple iBooks and iTunes bookstore (as previewed online here).
…
ISBN 978-1-61027-905-5 (hardcover)
ISBN 978-0-61572-635-9 (paperback)
ISBN 978-1-61027-904-8 (eBook, illustrated edition)
ASIN B00A950LAK (Kindle, illustrated edition)
228 pp.
Publication date: December 1, 2012
Author: Solomon Northup
Now a major motion picture "12 Years a Slave" with Chiwetel Ejiofor, Brad Pitt, Paul Giamatti, Paul Dano, and others.
ISBN 978-1-61027-905-5 (hardcover)