A vivid and fascinating first-person account of Maryland at the beginning of the Civil War, its Southern sympathizers and support for slavery, the attempted assassination of Lincoln, and the 1861 riots that tore Baltimore apart and brought the Union and martial law to the border state that fringed the nation's capital.  Author George William Brown was the mayor of Baltimore at the time of the crisis, and later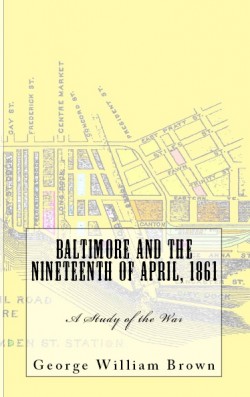 wrote these memoirs—after his own imprisonment during the Civil War, and his restoration to public standing as a judge and trustee of Johns Hopkins University.
Presented in an enhanced form by Quid Pro, this new but vintage edition of this important historical account avoids the pitfalls common to facsimile reproductions. It is painstakingly corrected by a process that virtually eliminates underlines, stray marks, and printer artifacts typically found in such reprints. Broken and missing words are restored. It is a Digitally Remastered Book,™ part of the History and Heroes Series. A book of this import and interest deserves such a careful reprinting.
Available in new paperback edition: see it at Amazon.com, Barnes & Noble, our QP eStore, YBP Library Services, and the Ingram catalog, among other booksellers.
…
CATALOGING:
ISBN 978-1-61027-902-4 (pbk.)
180 pp.
$18.49 US