One of the world's leading law journals is available in quality ebook formats for ereader devices and apps. This issue of The Yale Law Journal (the second issue of Volume 122, academic year 2012-2013) features new articles and essays on law and legal theory, and in particular examines: the language of rights discourse, even before the expansion of welfare in the 1960s (Karen Tani); impartiality of judges and legislators and its limits (Adrian Vermeule); and constitutional law and judicial capacity (Andrew Coan). The issue also features substantial student contributions on bankruptcy-proof financing, as well as recoupment from financial executives under Dodd-Frank.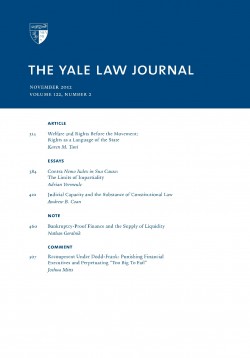 Ebook formatting includes linked notes and active Contents (including linked tables for individual articles and essays), and active URLs in notes and properly presented figures.
The editors of The Yale Law Journal are a group of Yale Law School students, who also contribute Notes and Comments to the Journal's content. The principal articles are written by leading legal scholars.
Available:
Amazon for Kindle.
Barnes & Noble for Nook.
At Apple iBooks and iTunes bookstores.
At Google for Google Play and Nexus devices. More generally at Google Books here.
Also found in ePUB format at Smashwords. Look for it, too, at Sony for the Sony Reader, Kobobooks, and Diesel e-books.
. . .
. . .
CATALOGING:
ISBN 978-1-61027-900-0 (eBook)
ASIN B00AEJBKGA  (Kindle)
214 pp.
Nov. 27, 2012
$ .99