Available in ebooks, the Harvard Law Review is offered in a high-quality digital edition, featuring active Contents, linked footnotes, legible tables, and proper ebook formatting. The contents of Issue 2, December 2012, include:
ARTICLES
• Historical Gloss and the Separation of Powers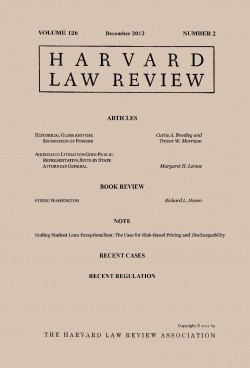 by Curtis A. Bradley and Trevor W. Morrison
• Aggregate Litigation Goes Public: Representative Suits by State Attorneys General
by Margaret H. Lemos
BOOK REVIEW
• Fixing Washington
by Richard L. Hasen
NOTE
• Ending Student Loan Exceptionalism: The Case for Risk-Based Pricing and Dischargeability
In addition, student casenotes explore recent cases on Equal Protection as to gay marriage and DOMA, application of Miranda to Somali pirates, OSHA statutes of limitation, Fourth Amendment applications to DNA searches, environmental law and greenhouse gas rules, and willful blindness as "knowledge" in digital copyright law. Finally, the issue includes a student study of a recent regulation regarding health care reform.
The Harvard Law Review is a student-run organization whose primary purpose is to publish a journal of legal scholarship. The Review comes out monthly from November through June and has roughly 2000 pages per volume. The organization is formally independent of the Harvard Law School. Student editors make all editorial and organizational decisions.
This issue of the Review is December 2012, the second issue of academic year 2012-2013 (Volume 126). Quid Pro is the exclusive ebook publisher of the Review.
AVAILABLE in eBook formats at  all leading sites:
Amazon for Kindle and Kindle apps. [See all our titles, in ebooks and print, at Amazon here.]
Barnes & Noble for Nook. [See all our titles, in ebooks and print, at B&N here.]
At Google Books and at the Google Play app.
At Apple iBooks and iTunes bookstore, direct on iPad and iPhone.
Also available in ePUB format at Smashwords; look for it, too, at Sony, Diesel, and Kobobooks ebookstores.
…
CATALOGING:
ISBN 978-1-61027-919-2 (eBook)
ASIN B00AKI8QWQ (Kindle)
265 pp.
$3.99 US