Novelist Sybille Bedford (1911-2006) was a German-born writer of Jewish heritage who, as an ex-patriot and later refugee from Germany, lived and wrote in Italy, France, the United States, and England. In this compelling classic, she watched courts closely—and with remarkable insight—in England, France, Switzerland, Germany, and Austria. There, she found stories of human frailty and impulsive action, among both the defendants facing judgment in court and the judges and juries deciding their fates. Their tales are fascinating and resonate today.
Not only are the social and political differences apparent in these countries and in their machinery of crime and justice, but also their historic perceptions of fairness and order are laid bare. In the process, Bedford recounts the compelling saga of a father on trial in Germany for killing the man who repeatedly exposed himself to the defendant's young daughter, the immigrant in Switzerland who swiped a watch to impress a chambermaid, the Algerians in France who shot up a series of Parisian cafes, and the English woman sentenced for forgetting to pay for her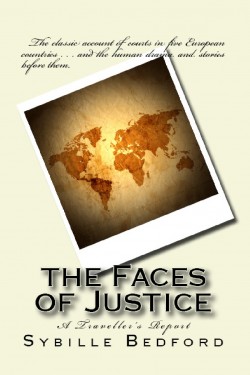 butter while she was distracted by sudden news that her father was dying. Scores of other gripping stories are shared, across several cultures and systems.
Although this book has long been recognized as an outstanding account of comparative legal systems and courtroom procedure, it does not read at all like a dry legal study. Bedford focuses on the real people involved, and writes with depth and feeling, leading to the wide acclaim this classic book has enjoyed over the years. It is accessible and interesting to a general audience, students, and others curious about how courts work and judges act—at the most basic level.
Available in

paperback

edition:

Found at such bookstores as Amazon.com, Barnes & Noble online, our QP eStore (fulfilled securely by Amazon), BooksAMillion, Ingram catalog, and YBP Library Services.
Also available in

eBook

editions at leading booksellers:
Amazon for Kindle.
Barnes & Noble for Nook.
And at Apple iTunes and iBooks bookstores.
…
Cataloging:
ISBN 978-1-61027-907-9 (paperback)
ISBN 978-1-61027-906-2 (eBook)
ASIN B00AQJ03A2 (Kindle)
Full title: The Faces of Justice: A Traveller's Report
200 pp.
ABOUT THE AUTHOR:
Sybille Bedford (1911-2006) was a German-born writer who, for most of her long life, lived and wrote in England, France, the United States, and Italy. Her novels include A LEGACY, JIGSAW, A VISIT TO DON OTAVIO, and A COMPASS ERROR. She also contributed articles to leading magazines and wrote acclaimed books of nonfiction, often involving courts and famous trials. Her biography of Aldous Huxley is considered the definitive one. Her last book, QUICKSANDS, was her memoirs; it was greeted, "It's a little miracle," by the New York Times Book Review, taking the reader from her childhood in World War I's Germany, her opposition to the rise of Naziism, the nomadic years in postwar Europe, a long friendship with the Huxleys, and her moving account of 9/11.