Lee Scheingold's rich, painful personal journey—following the death of her husband, famed political scientist Stuart Scheingold—is described from the points of view which have informed her life: psychoanalysis, clinical social work, Buddhist meditation, and family medicine. Poetry is the connecting thread, beginning with the Russian poems she studied long ago in college, and then to a variety of contemporary American and English verse. This is an emotional and intellectual account of profound grief from a professional psychotherapist who has approached her recent life with continual introspection and self-reflection. She explores the experiences which enabled her to tolerate and even welcome the feelings of grief.  She examines, with the issue of meaning at center stage, her psychoanalyses and a ten-year practice of Buddhism. In this journey, her reading of poetry links emotions to ideas. The deeply evocative style of the book resembles poetry itself.

Pre-reviews for this book tell the story, and are set out in full below.
AVAILABLE in hardcover and paperback editions. See the paperback at such sites as our QP eStore, Amazon.com, Barnes & Noble, BooksAMillion, YBP Library Services, and Ingram. Library-quality hardback is at Amazon, Barnes & Noble, BAM!, YBP Library Services, and Ingram.

Ebooks available at leading sites and in all formats:

Amazon for Kindle.
Barnes & Noble for Nook.
At Google Play app.
At Apple iBooks and iTunes bookstores.
And at Smashwords in multiple digital formats, including Sony, ePub, rtf, online viewing, and a simple PDF. Find it also at Kobo bookstore, Diesel eBooks, and many other digital retailers.
Advance praise for this book:
"One Silken Thread weaves a stunningly intricate tapestry of loves, of the life-wrenching death of a beloved, and of the consolation and self-understanding endowed upon a grief-stricken person by an unlikely troika of Russian poetry, psychoanalysis and Buddhist teaching. In this passionate contemplation on loves lost and found, we readers find ourselves transfixed by poems that express the inexpressible when grief renders us mute, by the revelatory healing of analysis as it is given and received, and by the discoveries of mystery and meditation in dharma practice. Lee Scheingold offers a startlingly self-revealing autobiography of her temporal journey between mind and soul, between love given and love taken away. This beautifully crafted and deeply insightful book speaks to those who are familiar with her three loves, and those who discover them as we turn each page. One Silken Thread must be savored, slowly and meditatively, picked up and put down, until its power is transmuted from one life to the many others on whom it will endow understanding and delight, comfort and courage."
— Terence Halliday, PhD, sociologist and sociolegal scholar; Director, Center on Law and Globalization; Research Professor, American Bar Foundation; Christian lay leader and  Presbyterian elder
Author, Beyond Monopoly, and coeditor, Fighting for Political Freedom
"A wonderful balance of psychoanalytic awareness and poetic sensitivity, an open and revealing memoir of the experience of loss and grief. It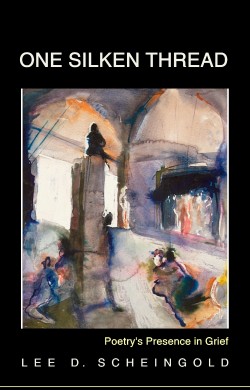 took me to another level in reading poetry—looking for and cherishing ambiguity and space. This is the story of how poetry (and Buddhism and psychoanalysis) helps one to come to grips with, or perhaps adapt to or even conquer loss. Best read with the heart."
— Fred Heidrich, MD, MPH, Clinical Professor of Family Medicine, University of Washington
"When the worst happens, what holds us together?  Lee Scheingold probes the depths of loss and finds in it a space for art, love, reflection, and the fiercely energetic life of the mind. Following the "silken thread" of lyric poetry that weaves throughout her personal, professional, and intellectual life, the author's contemplation of death and the healing powers of art is, like poetry itself, both personal and universal."
— Barbara Henry, PhD,  Associate Professor of Slavic Languages and Literature, and Affiliate, Jewish Studies Program, University of Washington
Author, Rewriting Russia: Jacob Gordin's Yiddish Drama and coeditor, Inventing the Modern Yiddish Stage: Essays in Drama, Performance, and Show Business
"In One Silken Thread, Lee Scheingold weaves together threads from Buddhism, Psychoanalysis, and Lyric Poetry through the process of her own grief to illuminate the possibility of what she calls "the heart of the world"—that which runs deep and connects us all at the level of our feelings. Scheingold tells us that she doesn't write poetry. But this book is lyrical in itself. It is a courageous self-reflection—simultaneously heart rending and affirming of the meaning and beauty possible from a life of caring deeply."
— Ritch Addison, PhD, Clinical Professor, UCSF Department of Family and Community Medicine; Behavioral Medicine Director, Santa Rosa Family Medicine Residency
Coeditor, Entering the Circle: Hermeneutic Investigations in Psychology
"Lee Scheingold has done something extraordinary, linking the truly academic with the truly personal in a way that is neither forced and pedantic nor nostalgic and cloying… It is, in short, real. It's what an academic does when searching for the light… Somehow, these writings are often too dry, dead, literary, searching for light and staying away from it and its warmth, because both are suspect. The other side is the very personal, about loss, emptiness, hurt, and pain told in a very personal way, but without the distance, separation and understanding that literature and intellect bring to the quest. Scheingold has merged and fully integrated both. This book is very brave and very well done."
— Mark Greenside, Professor of English, History, and Political Science, Merritt College (Calif.)
Author, I'll Never Be French (no matter what I do) and I Saw a Man Hit His Wife
CATALOGING:
ISBN 978-1-61027-167-7 (pbk.)
ISBN 978-1-61027-174-5 (hc.)
ISBN 978-1-61027-168-4 (eBook)
List price (pbk.): $24.99 (pbk.), $42.99 (hc.)
154 pp.