The Harvard Law Review is offered in a digital edition for ereaders and pads, featuring active Contents, linked notes, and proper ebook formatting. The contents of Issue 3, January 2013, include:
• Article, "Politicians as Fiduciaries," by D. Theodore Rave
• Book Review, "Is Copyright Reform Possible?" by Pamela Samuelson
• Note, "The SEC Is Not an Independent Agency"
In addition, student research explores Recent Cases on the Fourth Amendment implications of "pinging" a GPS signal on a cellphone, the First Amendment and mandatory tobacco graphic warnings, the First Amendment and police impersonation statutes, whether software method claims are patent ineligible, defamation law and the changing "per se" status of alleging someone is gay, habeas review under AEDPA, and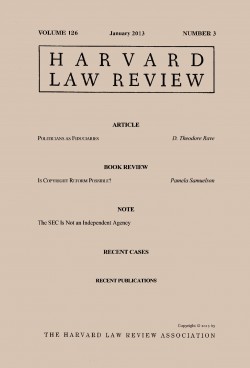 class action certification for illegal stops and frisks. Finally, the issue includes several surveys of Recent Publications.
The Harvard Law Review is a student-run organization whose primary purpose is to publish a journal of legal scholarship. The Review comes out monthly from November through June and has roughly 2000 pages per volume. The organization is formally independent of the Harvard Law School. Student editors make all editorial and organizational decisions. The Review generally publishes articles by professors, judges, and practitioners and solicits reviews of important recent books from recognized experts. Most student writing takes the form of Notes, Recent Cases, Recent Legislation, and Book Notes.
This issue of the Review is January 2013, the third issue of academic year 2012-2013 (Volume 126).
AVAILABLE in eBook formats at leading sites:
Amazon for Kindle and Kindle apps. [See all our titles, in ebooks and print, at Amazon here.]
Barnes & Noble for Nook. [See all our titles, in ebooks and print, at B&N here.]
At Google Books and at the Google Play app.
At Apple iBooks and iTunes bookstore, direct on iPad, iPhone, and iPod Touch (or use apps).
And in ePUB format at Smashwords; look for it, too, at Sony, Diesel, and Kobobooks.
…
CATALOGING:
ISBN 978-1-61027-909-3 (eBook)
ASIN B00AZKUW7G (Kindle)
209 pp.
$3.99 US
/