One of the world's leading law journals is available in quality ebook formats. This issue of The Yale Law Journal (the third of Volume 122, academic year 2012-2013) features new articles and essays on law and legal theory by internationally recognized scholars.
Contents include:
• John H. Langbein, "The Disappearance of Civil Trial in the United States"
• Daniel E. Ho, "Fudging the Nudge: Information Disclosure and Restaurant Grading"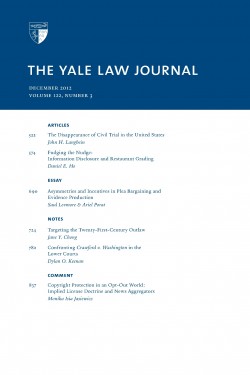 • Saul Levmore & Ariel Porat, "Asymmetries and Incentives in Plea Bargaining and Evidence Production"
The issue also includes extensive student research on targeted killings of international outlaws, Confrontation Clause jurisprudence as implemented in lower courts, and the implied license doctrine of copyright law as applied to news aggregators.
Ebook formatting includes linked notes and an active Table of Contents (including linked Tables of Contents for individual articles and essays), as well as active URLs in notes and extensive tables, and properly presented figures and graphics throughout.
AVAILABLE in eBook formats at leading sites:
Amazon for Kindle and Kindle apps. [See all our titles, in ebooks and print, at Amazon here.]
Barnes & Noble for Nook. [See all our titles, in ebooks and print, at B&N here.]
At Apple iBooks and iTunes bookstore.
At Google Play, and more generally at Google Books.
Also in ePUB format at Smashwords; look for it, too, at Sony, Diesel, Kobobooks, and other ebookstores.
…
Cataloging:
ISBN 978-1-61027-908-6 (eBook)
ASIN B00B1WRKUO (Kindle)
Page count: 334 pp.
US $1.99