A leading law review offers a quality ebook edition. This fourth issue of 2012 features articles from internationally recognized legal scholars, and extensive research in Comments authored by University of Chicago Law School students. Contents for the issue are:
• Elected Judges and Statutory Interpretation
by Aaron-Andrew P. Bruhl & Ethan J. Leib
• Delegation in Immigration Law
by Adam B. Cox & Eric A. Posner
• What If Religion Is Not Special?
by Micah Schwartzman
COMMENTS:
• A Common Law Approach to D&O Insurance "In Fact" Exclusion Disputes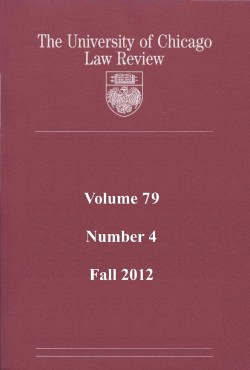 • Taming the Hydra: Prosecutorial Discretion under the Acceptance of Responsibility Provision of the US Sentencing Guidelines
• Are Railroads Liable When Lightning Strikes?
• Who's Allowed to Kill the Radio Star? Forfeiture Jurisdiction under the Communications Act
• Federal Diversity Jurisdiction and American Indian Tribal Corporations
• The Right to Trial by Jury under the WARN Act
The issue also includes a Review Essay by Saul Levmore, analyzing the Public Choice implications of Why the Law Is So Perverse by Leo Katz
Ebook formatting includes linked notes and an active Table of Contents (including linked Tables of Contents for individual articles and essays), as well as active URLs in notes and properly presented tables.
AVAILABLE in eBook formats at leading sites:
Amazon for Kindle and Kindle apps.  [See all our titles, in ebooks and print, at Amazon here.]
Barnes & Noble for Nook.  [See all our titles, in ebooks and print, at B&N here.]
And at Apple iBooks and iTunes bookstore.
Also now available from Google for Google Play, and generally at Google Books.
In ePUB format at Smashwords and Kobobooks.
…
CATALOGING:
ISBN 978-1-61027-890-4 (ePUB)
ASIN B00B2SFI24 (Kindle)
471 pp.
99 cents