Law and the Quest for Justice is a new book featuring evocative essays on hotbed issues of rights, liberty, security and law. An insightful collection of essays from leading voices on the challenges and promise of justice and law, this book is accessible and interesting to a wide audience. It features internationally renowned members of the academy, national political figures, Pulitzer Prize-winning journalists, and crusading lawyers. The thought-provoking topics include:
Erwin Chemerinsky on reconceptualizing federalism and healthcare reform • John Echohawk on Native American rights • Jack Greenberg on Brown v. Board's legacy • Linda Greenhouse on how Supreme Court Justices evolve over time • Lani Guinier on reframing affirmative action • Antonia Hernández on what citizenship means after 9/11 • Anthony Lewis on broadening presidential power to fight terrorism • Janet Napolitano on security and rights after 9/11 • Charles Ogletree on achieving racial justice • Robert Reich on the economic inheritance of our children • Judith Resnik on Guantánamo, Miranda, and public rights to fairness • Geoffrey Stone on sacrificing civil liberties in wartime.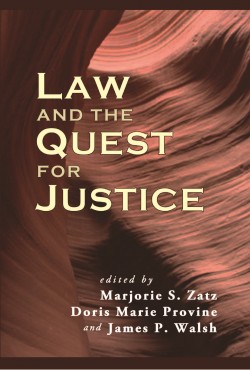 The volume originates from a lecture series honoring legal legend John P. Frank, who represented Ernesto Miranda in the Supreme Court. It is edited and presented by Marjorie S. Zatz and Doris Marie Provine—both professors of Justice & Social Inquiry at Arizona State University—and Arizona attorney James P. Walsh, who was once a law partner to John Frank.
PAPERBACK AVAILABLE at the Quid Pro order page for this book (fulfilled securely and quickly by Amazon), as well as such booksellers as Amazon.com, Barnes & Noble, YBP Library Services, and Ingram catalog.
ALSO AVAILABLE in quality eBook formats:
Amazon for Kindle.
Barnes & Noble for Nook.
And at Apple iBooks and iTunes bookstore.
…
Cataloging:
ISBN 1610271637 / 978-1-61027-163-9 (pbk.)
ISBN 1610271645 / 978-1-61027-164-6 (eBook)
ASIN B00B6UG3CC (Kindle)

Page count: 198
US paperback price: $28.99